Boston DA: Christmas Tragedy "Likely a Double Murder-Suicide"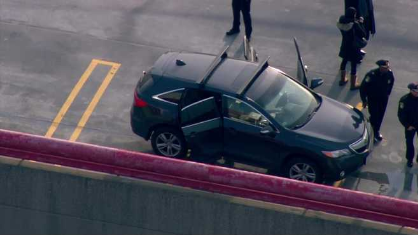 Email: news@abc6.com
Twitter: @ABC6
BOSTON, Mass. (WLNE)- Suffolk County District Attorney Rachael Rollins issued a statement calling the three deaths outside a Northeastern University parking garage Wednesday "very likely a double murder-suicide."
Rolllins identified the victims as 40-year-old Erin Pascal, of West Roxbury, Massachusetts and her two children, 4-year-old Allison and 16-month-old Andrew.
"Yesterday, the unspeakable happened and now we are all struggling to make sense of the circumstances surrounding these deaths," said Rollins.
We're now learning more about Pascal's ties to Rhode Island. According to her LinkedIn profile, she was a reporting intern at the Providence Journal from 2001-2003. She was also a graduate of Brown University.
The exact causes of death remain under investigation, Rollins said at an afternoon press conference.
This marks the 5 death to occur at the Renaissance Park Garage this year, Rollins said, after a suicide in May and another on December 9.
"For a parent to come to the place in which they harm their children in this way indicates that their mental health struggles were severe and in need of immediate supports," said Rollins.
Rollins urged those struggling with depression and suicidal thoughts, or the stress of parenting, to seek telephone counseling.
The district attorney listed several outlets for those in need, including:
Samaritans Statewide Hotline: 877-870-HOPE
National Suicide Prevention Lifeline by calling 800-273-TALK
Parent Stress Line at 1-800-632-8188
Rollins thanked first responders, including Northeastern Police, Transit Police, Boston Police, Emergency Medical Service and her staff at the District Attorney's office, "all of whom were there in real time as this tragedy unfolded."
©WLNE-TV/ ABC6 2019