Boston doctor had 3 kids, wife pregnant with 4th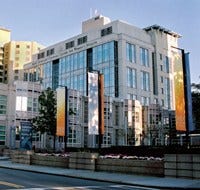 By Dana Griffin
@danagriffinABC6
BOSTON, MA- Colleagues of Dr. Michael Davidson described him as an inspiring surgeon, dedicated to saving lives.
Hundreds of employees gathered outside Brigham and Women's Hospital Wednesday to honor Dr. Davidson, as the flag was lowered to half-staff.
"He would go in and sit down and 15 or 20 minutes later… or 30… the conversation would be over when he was satisfied that the person he was speaking with had been well-served."
Dr. Davidson was also a father of 3 kids, and his wife was pregnant with their 4th.
Police believe revenge was on the mind of the Brigham and Women's Hospital shooter. His gravely ill mother had been a patient of Dr. Michael Davidson.
The gunman, 55-year-old Stephen Pasceri blamed the doctor for her death.
Boston Police Commissioner, William Evans said, "There's something in the past that upset this guy to come in looking for this particular doctor."
Pasceri made his way to the 2nd floor lobby, shooting Dr. Davidson twice. He then shot himself in an examining room.
Pasceri's family says he told them he was going to work; they had no idea of his intentions to kill.
Doctors raced to save their colleague. Rhiana Huckins was in the hallway.
"They were running. They came running out of the hallway that connects from the Shapiro cardiovascular center to the main hospital and a lot of commotion a lot of noise, screaming," said Huckins.
The suspect is from Millbury and has a wife and 4 kids.
According to police, he had a permit to carry a gun.
©2015 ABC6/WLNE-TV. All Rights Reserved.