Boston Marathon bombing survivor dances again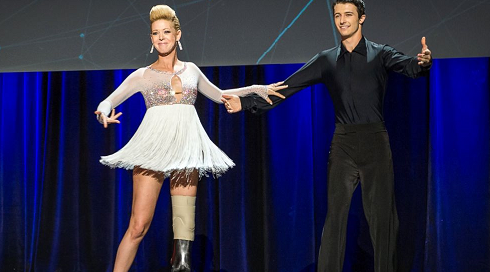 By News Staff
Twitter: https://twitter.com/ABC6
Facebook: https://www.facebook.com/ABC6News?ref=hl
Information provided by the Associated Press
BOSTON (AP) A professional dancer has taken the stage for the first time since losing part of her left leg in the Boston Marathon bombing last year.
Thirty-three-year-old Adrianne Haslet-Davis of Boston danced at the 2014 TED Conference in Vancouver, British Columbia, on Wednesday.
Haslet-Davis wore a white sparkling short dress that showed off a new prosthetic leg as she twirled across the floor with a partner.
The two danced to a shortened version of the song "Ring My Bells" by Enrique Iglesias.
MIT professor Hugh Herr started designing the bionic leg specifically for dancing after visiting Haslet-Davis in the hospital. Herr says he wanted her to be able to get back to what she loved doing.
Haslet-Davis finished the performance with a huge smile on her face as she wiped a tear from her cheek.
Photo courtesy: James Duncan Davidson/AP Photo
©WLNE-TV / Associated Press