Boston Police Visit hernandez Home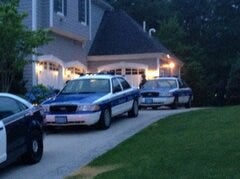 By: Robert Bumsted
rBumsted@abc6.com
@rBumstedABC6
Aaron Hernandez remained at a Bristol County jail on Thursday, but police were still at his home.
Officers from the Boston Police Department arrived at Hernandez's North Attleboro Home Thursday evening and waited for hours in the driveway. The department is reportedly investigating an un-solved double-homicide that happened in Boston's South End in 2012.
Police say a silver car was seen fleeing from the scene, and according to some reports, that car had been rented by Hernandez.
ABC6 has also learned the football star was questioned in yet another shooting investigation. Six years ago, two people were shot in their car at the University of Florida at Gainesville.
"Aaron Hernandez was mentioned in the investigation and was contacted during that investigation. He answered just a couple of brief questions," said Officer Ben Tobias of the Gainesville Police Department.
Hernandez was never charged with that crime and that case is also still unsolved.