Boston's Top Prospect Chavis Stellar in Triple-A Debut, Bisons Roll PawSox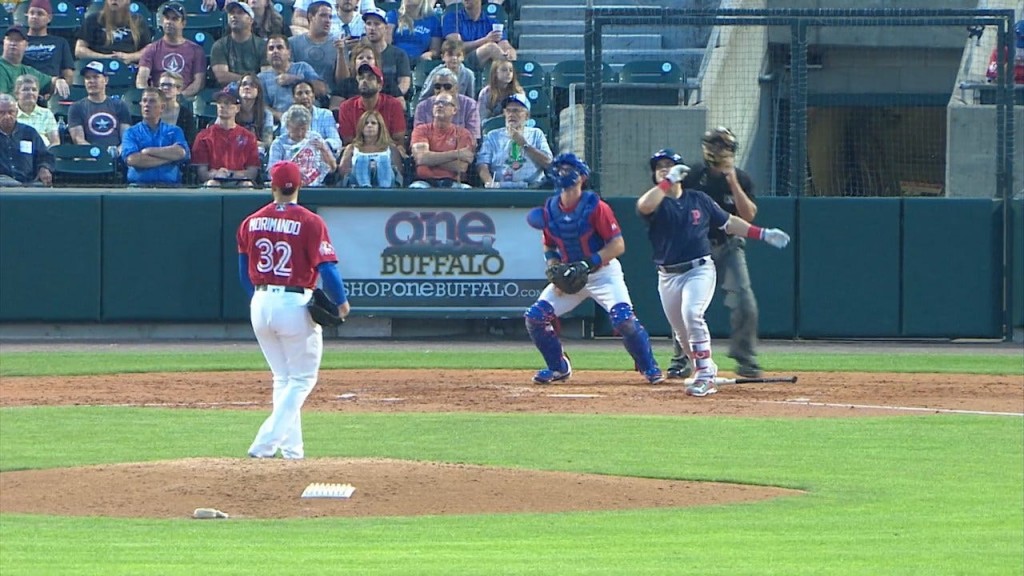 Michael Chavis loudly announced his presence in Triple-A, and Brandon Phillips pounded out four more hits, but the Buffalo Bisons erupted in a 13-4 win over the PawSox on Friday night at Coca-Cola Field.
After just being promoted from Double-A Portland in the afternoon, the 23-year-old Chavis went 3-for-4 with an opposite-field homer, a wall-ball double to center and another two-bagger down the left-field line. Phillips, for his part, went 4-for-5 with a double and is now 26-for-55 (.473) with nine extra-base hits in his last 14 games. PawSox shortstop Mike Miller went deep in the second inning and logged a three-hit game of his own, upping his average to .280.
Pawtucket starter Mike Shawaryn (L, 2-1) surrendered six runs on 10 hits and a walk in 3.1 innings. Right-handed reliever Austin Maddox, who had his rehab transferred from the GCL, was tagged with five runs on three hits and two walks when he entered in the seventh inning.
Buffalo starter Shawn Morimando (W, 2-4), meanwhile, fired five innings of three-run ball, and a pair of relievers combined on four innings of one-run ball.
Pawtucket started the scoring in the top of the second inning when Miller tagged an opposite-field homer to right field to make it 1-0.
In the home half of the second, however, Buffalo countered with a pair of runs on a solo homer and an RBI single to climb ahead 2-1.
An inning later, Buffalo shortstop Gunnar Heidt cracked a two-run homer to make it 4-1.
Chavis responded in the top of the fourth inning by clubbing his two-run homer to right field to trim the margin to 4-3.
Buffalo's third home run of the game – from Jonathan Davis – was a solo shot in the bottom of the fourth to make it 5-3. Soon thereafter, stud prospect Vladimir Guerrero Jr. supplied an RBI double to add a run and chase Shawaryn.
In the sixth, Buffalo designated hitter Dwight Smith Jr.'s RBI double widened the Bison lead to 7-3. An error and a sacrifice fly from Guerrero then made it 8-3.
Against Maddox in the bottom of the seventh inning, Buffalo placed a pair aboard on walks, and Michael De La Cruz scorched a two-run double to extend the margin to 10-3. Left fielder Roemon Fields followed with an RBI triple, and Davis chipped in with an RBI knock of his own. Another sacrifice fly made it 13-3.
Miller reeled in Chavis with an RBI single in the eighth.
The PawSox continue their four-game weekend series against Buffalo on Saturday at 6:05 p.m. Pawtucket right-hander Justin Haley (5-8, 3.77) is scheduled to start opposite Bisons righty Mike Hauschild (1-0, 3.38). Radio coverage on WHJJ (920 AM and 104.7 FM) and throughout the PawSox Radio Network begins with PawSox Insider at 4:35 p.m.
After the eight-game road trip, the PawSox are back home August 28-30 (Tuesday-Thursday) for the penultimate homestand of the season. Good tickets are available, and fans can visit the McCoy Stadium box office, which is open Monday-Friday from 10 a.m. through 5 p.m., and during all home games. Fans can also call (401) 724-7300 or log on to PawSox.com for tickets.