Boy Scouts, National Guard lend helping hand in Cranston food drive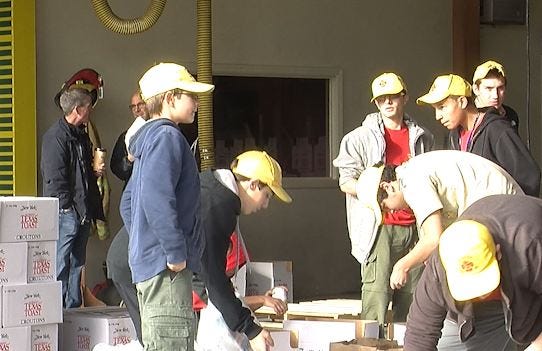 By Chris Sheppard
Twitter: www.twitter.com/abc6
CRANSTON, R.I. – Boy Scouts and National Guard members from all parts of Rhode Island came together Saturday morning to collect a plethora of food items, all intended to help Rhode Islanders in need of foodstuffs.
This year, however, there was a slightly different tone to the lively commotion taking place inside a garage at the Sockanosset Fire Station.
"It's very, very difficult for folks who have good food, to discard it from their refrigerators after a storm. So many people lost food because of Hurricane Sandy," said Andrew Schiff, CEO of the Rhode Island Community Food Bank.
Carloads full of food donations were flagged into the parking lot by waiting Scoutmasters, where they were enthusiastically unloaded by boy scouts and National Guard troops, who joined the food drive for the first time this year.
The scouts were pleased to provide a helping hand, especially after the disaster which brought severe damage to several towns and cities in Rhode Island.
The food bank expects to raise at least 300,000 pounds of food from Saturday's drive alone. Schiff said that because of Hurricane Sandy, the food bank will serve at least 5,000 more people than it does in a typical month.