Boy's memorial plaque stolen from South Kingstown park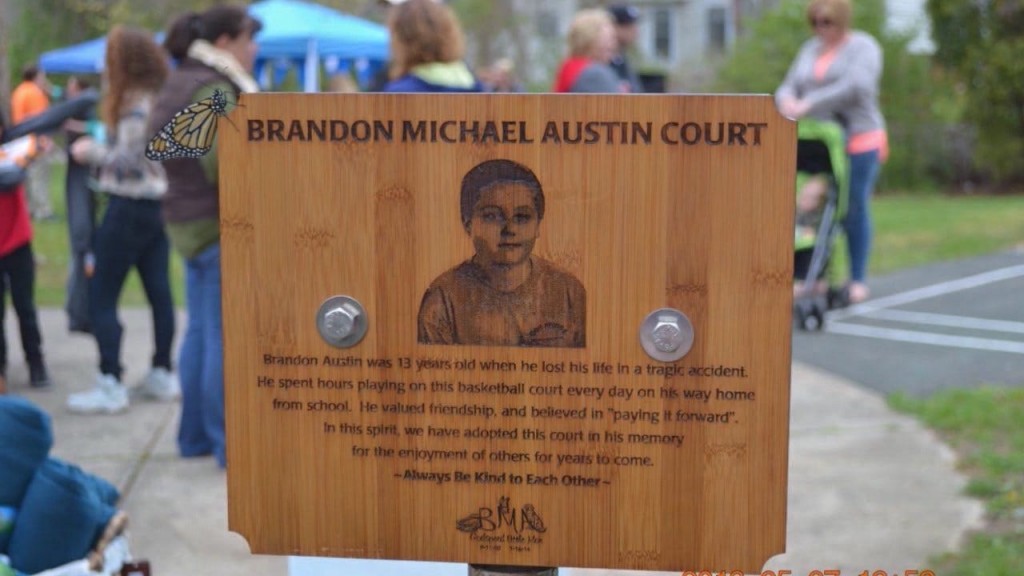 By John Krinjak
Email: jkrinjak@abc6.com
Twitter: @johnkrinjakABC6
SOUTH KINGSTOWN, R.I. (WLNE) — After the death of her 13-year-old son Brandon nearly two years ago, Loralie Austin wanted to find a public way to keep his memory alive. Brandon loved basketball, and was a frequent player here at Fagan Park.
"The very first thing that struck me was I didn't hear the ball bouncing anymore. so I said I want to adopt that basketball court, said Austin.
A wooden plaque was installed next to it, designating "Brandon Michael Austin Court," with his picture and information about his life.
But then this week, "Me and my friend were running through the woods, came by here, and I noticed the sign was gone," said Myles Point, Brandon's best friend.
Police say it had been stolen sometime between last Thursday and this past Tuesday.
"I'm Brandon's my best friend and this is our memorial to him, so I was very angry," said Point.
"When I first heard it, it was disbelief. why would someone do something like that? My second reaction, I was just so sad," said Austin.
And given the impact Brandon had on those around him, his family and friends are at a loss as to who could possibly be cruel enough to do this.
"He was a great friend, he would always help those kids who were picked on or bullied. he was an awesome kid," said family friend Elise Nettleton. "To have someone come and take the sign, it seems very premeditated that someone came and did this, and we don't know why but it's just very hurtful."
Brandon's mother says she has only one thing to say to the thief–that she wants her sign back.
Still, the family is in the process of designing a new sign., and Loralie Austin looks forward to spending some sunny spring days courtside.
"Oh, that's going to mean the world to me, especially with the warm weather coming, the sound I look forward to every day," said Austin.
Police believe whoever stole the sign is also responsible for some recent vandalism in the park. If you have any information you're urged to call South Kingstown Police.
Loralie Austin also founded a nonprofit, the Brandon Michael Austin memorial fund.
© WLNE-TV / ABC6 2018