BREAKING NEWS: $336.4M RI Powerball winner is 81-year-old woman From Newport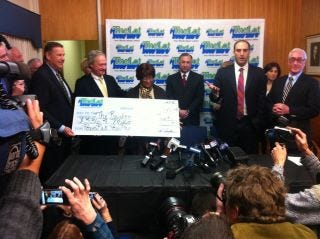 CRANSTON, R.I. (AP) – The winner of last month's $336.4 million Powerball jackpot is an 81-year-old woman.
Rhode Island lottery officials said Tuesday in Cranston that Louise White had won the sixth largest jackpot in U.S. history. The winning numbers from the Feb. 11 drawing were 1-10-37-52-57 and the Powerball was 11. The winning ticket was sold at a Stop & Shop supermarket in Newport.
The lump sum payment will be $210 million. The ticket price for Powerball increased from $1 to $2 in January. Rising sales nearly doubled the jackpot from $173.5 million on Feb. 1.
Powerball is played in 42 states, Washington, D.C., and the U.S. Virgin Islands. The chance of matching all five numbers and the Powerball number is about 1 in 175 million.