Breast cancer survivor discusses her journey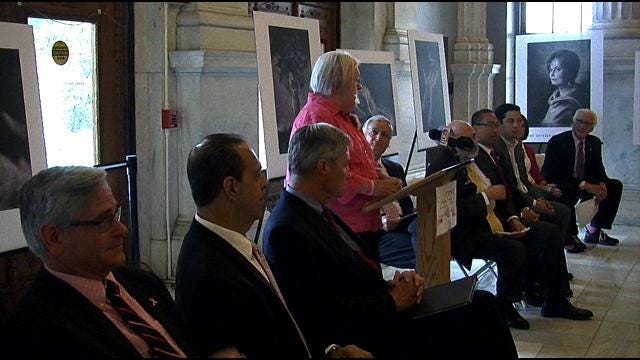 By: Melissa Randall
mrandall@abc6.com
Two time breast cancer survivor Mary Jane Bohlen drew strength from the sea of pink surrounding her as she took the podium. The Cranston woman opened up about a doctor's visit 22 years ago. An irregular mammogram and a positive biopsy changed her life.
"Breast cancer was the furthest thing from my mind. I just went because it was the thing to do," she said.
Bohlen decided to share her story to help raise awareness. Her goal is echoed by the Gloria Gemma Foundation. The non-profit organization kicked off on the first day of National Breast Cancer Awareness month with an event at the state house Wednesday.
"Breast cancer happens 12 months out of the year, but this really is an important time for people who may have forgotten to schedule their mammograms as a reminder that they need to do so," Said Carol Ann Donnelly, a two time breast cancer survivor and member of the Gloria Gemma Foundation.
One in six Rhode Island women will be touched by breast cancer in their lifetime.
The foundation recommends yearly mammograms and monthly self exams starting at age 20.
"There is no cure for breast cancer, so early detection is the best protection," said Donnelly.
6 years ago Bohlen was again diagnosed with breast cancer— for second time she went under the knife and had a mastectomy. She credits Gloria Gemma, and the relationships formed there, with keeping her moving forward.
"You can talk somebody and if you are not feeling good you can talk about it and know that they are not going to think any less of you for what you are saying," she said.
The Foundation is celebrating its 10th anniversary this year. The annual Flames of Hope Run and Walk is coming up Columbus Day weekend.
© WLNE-TV 2014
Follow me on Twitter @MelissaARandall