Brewers Spoil Opening Day for the Red Sox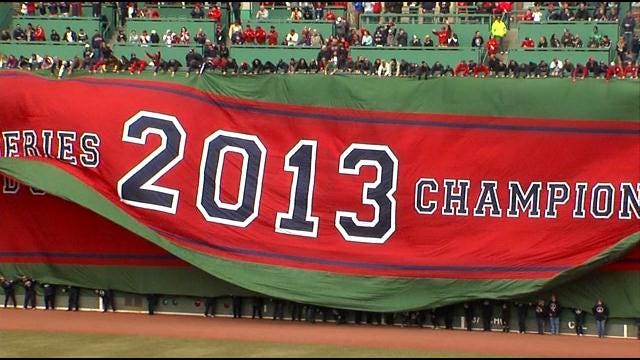 Brewers win 6-2 in Red Sox home opener
By HOWARD ULMAN=
AP Sports Writer=
BOSTON (AP) _ Lyle Overbay hit a tiebreaking two-run double in the ninth inning off Edward Mujica, and the Milwaukee Brewers beat the Red Sox 6-2 Friday in Boston's first game at Fenway Park since winning the World Series last October.
During a nearly hour-long pregame ceremony, Red Sox players received their rings for winning Boston's third title in 10 years. But then the Brewers ended Boston's streak of wins in nine straight home openers.
Khris Davis doubled off Mujica (0-1), who made his Boston debut, and took third when Scooter Gennett reached on a sacrifice bunt. Overbay doubled to right for a 4-2 lead, advanced on the throw and scored on Carlos Gomez's fourth single of the game. Aramis Ramirez added an RBI single.
Ryan Braun was 0 for 5 and was booed each time he came to the plate in his first road game following his 65-game suspension last season. Four days earlier, home fans applauded the 2011 NL MVP loudly during Milwaukee's season opener.
AP-WF-04-04-14 2158GMT