Bridge replacement project creates challenge for blood donors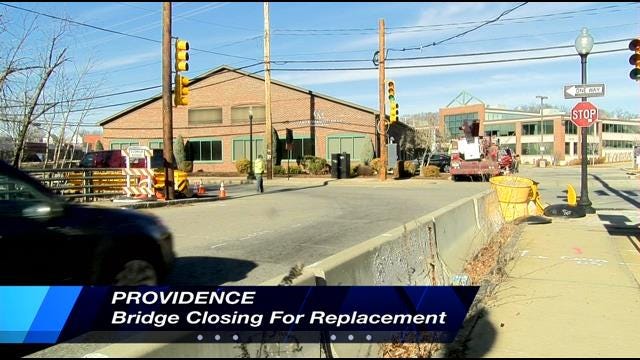 By: Melissa Randall
@MRandllABC6
The crumbling Pleasant Valley Parkway bridge in Providence is coming down so a new one can go up.
"I'm happy to hear that but it's going to cause a lot of confusion," said Sonia Abercrombie who works nearby.
That confusion is a concern for the Rhode Island Blood Center. Its Promenade St. building is caught right in the middle of construction. The $5.6 million project starts Sunday, January 3rd, and is expected to last a year.
"The donors themselves are resilient– there's ways to get here. Just because you can't go that way doesn't mean to you don't come," said Eric St. Peter, spokesman for the RI Blood Center.
But it will take more effort. St. Peter says the center is working with the Rhode Island Department of Transportation to make the process as painless as possible for donors.
"I understand they are trying to get the timing of the construction project going on now to cut a significant amount of time off the project itself so they've been fantastic," he told ABC6 News.
St. Peter estimates the accelerated timeline will shave roughly 180 days off the job.
Detour signs are already going up, and people who work in the area, are adjusting their commutes. Abercrombie says she'll be okay, but is worried about her colleagues.
"Some of them just know this area here so I think they are going to have a problem with an alternate route to the job," she said.
About 41,000 vehicles travel over the Pleasant Valley Parkway Bridge each day. Promenade St. will be temporarily widened to create a one–way circulator and help drivers navigate the work zone.
© WLNE-TV 2015