Bridgeport Beats Providence For Seventh Straight Win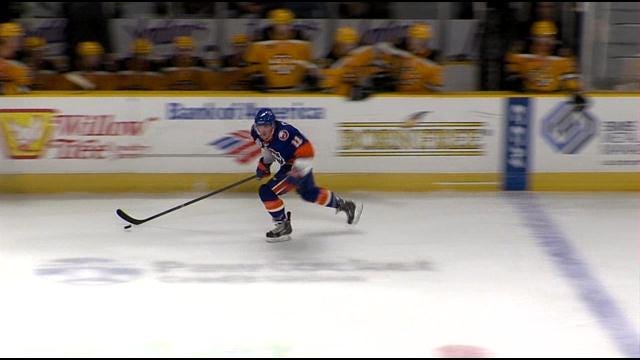 Providence Bruins Press Release
Providence, RI – The Providence Bruins fell to the Bridgeport Sound Tigers 4-2 Friday evening at the Dunkin' Donuts Center. Mike Moore and Steve Campbell scored the P-Bruins goal, while Niklas Svedberg made 13 saves.
The P-Bruins took a 1-0 lead at the 17:58 mark in the opening period. Moore scored his sixth goal of the season, with assists going to Matt Lindblad and Anthony Camara. The Sound Tigers tied the game at one with an unassisted goal by Joey Martin at the 19:56 mark. It was his first goal of the season as the game went into the first intermission tied at one.
The Sound Tigers broke the tie at the 3:20 mark of the second period. Matt Donovan put the Sound Tigers up 2-1 notching his seventh goal of the season, with Andrew Clark getting the lone assist. At the 8:38 mark, Clark scored an unassisted shorthanded goal putting Bridgeport up 3-1. It was his fifth goal of the season. At the 19:35 mark, John Persson netted his team leading 12th goal of the season putting the Sound Tigers up 4-1. Assists went to Alan Quine
The P-Bruins battled back in the third period, when Campbell scored his second goal of the season at the 14:04 mark. Ben Youds and Tyler Randell had the assists, but were unable to score again as Bridgeport went onto the 4-2 victory.
Svedberg stopped 13 of 17 shots for the P-Bruins, while Anders Nilsson made 31 saves for the Sound Tigers. Providence went 0-for-5 on the Power Play and 3-for-5 on the Penalty Kill.
The P-Bruins travel to Springfield Saturday to take on the Falcons at 7:00pm before returning home to the Dunkin' Donuts Center on Sunday at 3:05pm against the Albany Devils. The first 1,000 fans in attendance will receive lip balm courtesy of Amica. For tickets to this or any other P-Bruins home game, please visit www.providencebruins.com. and Clark. Bridgeport led 4-1 after two periods.