Bright Night Providence Canceled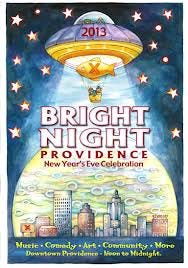 Andrea Medeiros
First it was Boston, now Providence. After a decade of entertaining revelers on New Year's Eve, there will be no more Bright Night. The show has been canceled.
Warwick dance teacher Carolyn Dutra is disappointed.
For the first time in a decade, her students won't be able
to perform at Bright Night.
"It's one less experience that they'll have this year," said Dutra, "I mean how often can you have that opportunity to
perform in front of that many people."
The New Year's Eve festival that brings thousands of people
into downtown Providence is canceled this year because of money woes.
"As much as we want to make it happen, we also just want
to make this city proud. We just didn't have enough money or manpower to make
that happen this year," said festival Director Alexandra Kreher.
It costs about 60–thousand dollars to put on Bright Night, paid for with donations and ticket sales.
Festival Kreher said, this year, companies just aren't donating as much.
"We would need a pretty large outpouring of support and
funding in the next month, pretty much, to make this happen again this year," said Kreher.
Mayor Angel Taveras said he's not ruling anything out.
This year, Rhode Islanders have already seen the Air Show
get canceled, and Waterfire was in jeopardy too.
"It's not just in Providence," said Taveras, "It's unfortunately
happening across the country. There's a lot of time between now and New Year's that
we can figure out how to address it,"
Mayor Taveras is not making any promises.
So for now, Dutra's
young dance students will just keep practicing hoping something saves Bright Night.
"That's one of the performances we all look forward to,
a lot of people come," said young dancer Rachel Ferrara, "It's something we do every year, so it's weird that it's
not going to be this year anymore."
When First Night Boston was canceled, donations started pouring into the mayor's office. Organizers hope the same thing happens here.