Bristol County Underage Drinking Task Force gears up for prom season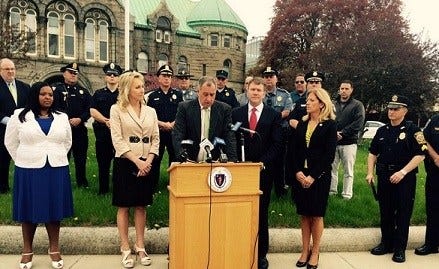 By: Melissa Randall
mrandall@abc6.com
@MRandallABC6
Under–age kids' driving drunk isn't a new problem, but it's one that becomes especially worrisome this time of year. Prom and graduation season are approaching. Law enforcement across Bristol County will be stepping up enforcement in an effort to prevent tragedies.
"We'll be monitoring the package stores. And we're also going to be patrolling during the times that the proms are on going," said Sgt. Richard Carreiro of the Taunton Police Department.
However, the District Attorney says police efforts are not enough.
"Parents are needed to discuss the issue with their teens and children. They need to address the dangers of underage drinking and the importance of resisting peer pressure," said D.A. Thomas Quinn.
The community also plays a big role in keeping kids safe. Tux Towne in Taunton is one of about a dozen shops across the county that are putting a prevention card into the pocket of every jacket sold or rented to a student this season. Each chard has statistics on them specifically highlighting the dangers of drinking and driving. It warns that about 5,000 people under age 21 die each year from injuries caused by underage drinking – 40% of which occur in car crashes.
Police are also trying to warn students about the consequences of getting behind the wheel drunk. Doing so would be in violation of the law, and in some districts against school policy.
"One of the possibilities is forfeiting for 30 days any participation be it school activities, athletics, and this time of year prom and the ability to walk across the stage at graduation," explained Sgt. Jacob Bennett of the Norton Police Department.
Some communities host after prom parties where students voluntarily stay all night. Fall River has successfully hosted such an event for the last 19 years. Other communities are now looking at the alternate activity option as well.
"We all want prom night to be a night that they'll never forget but we want it to be for the right reasons," Rep. Shauna O'Connell of Taunton.
© WLNE-TV 2015