Bristol County voters to decide on new Bristol-Plymouth Technical School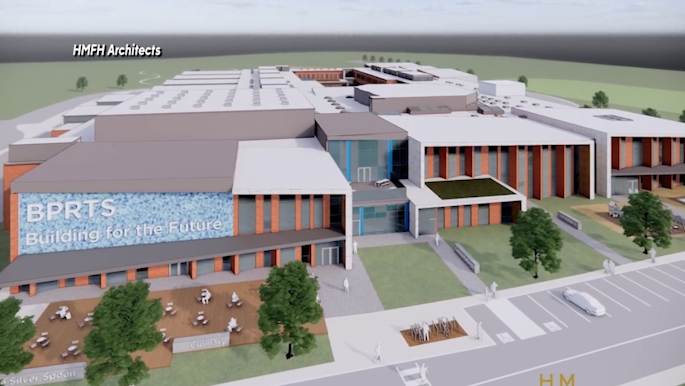 TAUNTON, Mass. (WLNE) – Voters in Bristol County will have the opportunity to approve or deny a new school facility for the Bristol-Plymouth Regional Technical campus this weekend.
The special referendum will be held on Saturday, March 5 from 9:00 a.m. to 3:00 p.m. in several locations across seven communities in the county.
If approved, construction can begin on plans to build a brand-new school campus, coming in at a price tag of $305 million.
"Our school is undersized. It was built for 780 students, and we now have 1,330," Superintendent Magalhaes said. "We're tight. We've been building outside buildings, but it's to a point where it's difficult to function that way."
The plans for the new school building were approved by the Massachusetts School Building Authority. The MSBA would pay for a grant funding $125 million of the cost, leaving taxpayers responsible for the remaining cost.
The remainder of the project costs $179.9 million, which would be split among the seven district communities. Each city/town would pay the same cost per student based on yearly assessed enrollment. The $179.9 million would be paid through the issuance of a 30-year construction bond, with the largest impact beginning in Fiscal Year 2025.
"I can't tell them to vote yes or no, it's their decision and their tax dollars," Superintendent Magalhaes said. "I can just say that if you vote yes, you're accepting a $125 million grant from the MSBA. That's money they've already paid for. Giving up this opportunity, you're giving up $125 million to another district that will take over."
If voters decide no, the school building committee will move forward with repairs to the old building. That project would cost $137 million and would also be on taxpayers to fund. Superintendent Magalhaes says those repairs also don't address the issue of overcrowding and it would disrupt education while repairs are being done over the process of 8 years.
"One way or another, we have to do something, Superintendent Magalhaes said. "Either we go with the $137 million dollars of just fixing the building, and I can say in the future, this building is going to need more additions built to it."
Polls will be open in the following locations:
Berkley
Berkley Community School, 59 South Main St
Bridgewater
Mitchell Middle School, 166 Mount Prospect St.
Dighton
Dighton Elementary School, 1250 Somerset Ave.
Middleborough
Precinct 1: Oak Point Club House, 202 Oak Point Drive
Precinct 2: Middleborough High School, 71 East Grove St.
Precinct 3: South Middleborough Fire Station, 566 Wareham St.
Precinct 4: Middleborough High School, 71 East Grove St.
Precinct 5: Council on Aging, 558 Plymouth St.
Precinct 6: Middleborough High School, 71 East Grove St.
Raynham
Raynham Middle School, 420 Titicut Road
Rehoboth
Francis Farm Community Center, Museum Building, 27 Francis Farm Road
Taunton
Ward/Precinct 1A: Liberty Christian Center 159 Winthrop St. (former Assembly Of God Church)
Ward/Precinct 1B: Westville Congregational Parish Hall, corner Of Winthrop and North Walker streets
Ward/Precinct 2A: St. Andrew The Apostle Church, 19 Kilmer Ave.
Ward/Precinct 2B: Former Temporary City Hall, 141 Oak St.
Ward/Precinct 3A: New Elizabeth Pole School, 215 Harris St.
Ward/Precinct 3B: New Elizabeth Pole School, 215 Harris St.
Ward/Precinct 4A: Joseph H. Martin School, 131 Caswell St.
Ward/Precinct 4B: East Taunton Elementary School, 58R Stevens St.
Ward/Precinct 5A: Hopewell School, 16 Monroe St.
Ward/Precinct 5B: Holy Rosary Parish Center, 80 Bay St.
Ward/Precinct 6A: Craig C. Sherman Center-DPW, 90 Ingell St.
Ward/Precinct 6B: Leddy School, 36 Second St.
Ward/Precinct 7A: Mulcahey School, 28 Clifford St.
Ward/Precinct 7B: Bennet School, 47 North Walker St.
Ward/Precinct 8A: Friedman Middle School, 500 Norton Ave.
Ward/Precinct 8B: Taunton Elks, 775 John Quincy Adams Road