Bristol Awards 90-year-old for Service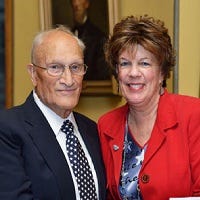 By Dana Griffin
BRISTOL, RI- Bristol's famous Fourth of July celebration is about patriotism and hometown pride. But, it's also about honoring those who serve the community.
Each year, the town recognizes someone who embodies that spirit with the Hattie Brown Award.
Everyone in Bristol knows Hector Massa. This 90-year-old patriot has lived there all his life. Massa mentored kids at the YMCA and summer camps for 22 years. Some of those kids, now adults still remember him.
Gina Campbell said, "Mr. Massa is a fond memory of mine." Campbell would try to sneak into the swimming pool, without permission.
"He always knew we were there and he would come by and say, "Out of the pool, out of the pool," said Campbell.
The YMCA is where he got his nickname, "Hector"
Hector Massa said, "You wouldn't call Santa Claus, Mr. Claus… You call him Santa Claus. Well, they call me Hector and I accepted it."
Massa also worked at Roger Williams University, where he was athletic director. All the while, volunteering with various charities.
Now retired, he loves to run into those kids, now grown up. As the winner of the Hattie Brown Award, he'll proudly ride in the 4th of July parade with his wife by his side.
His wife Shirley Massa adds, "That means a lot to me too knowing that he's done all this. I'm very proud of him."
"I've been a very lucky man. I've enjoyed life and people just make me happy."