Brock Holt Starts Rehab, Jordan Betts Homers In PawSox Loss At Lehigh Valley Monday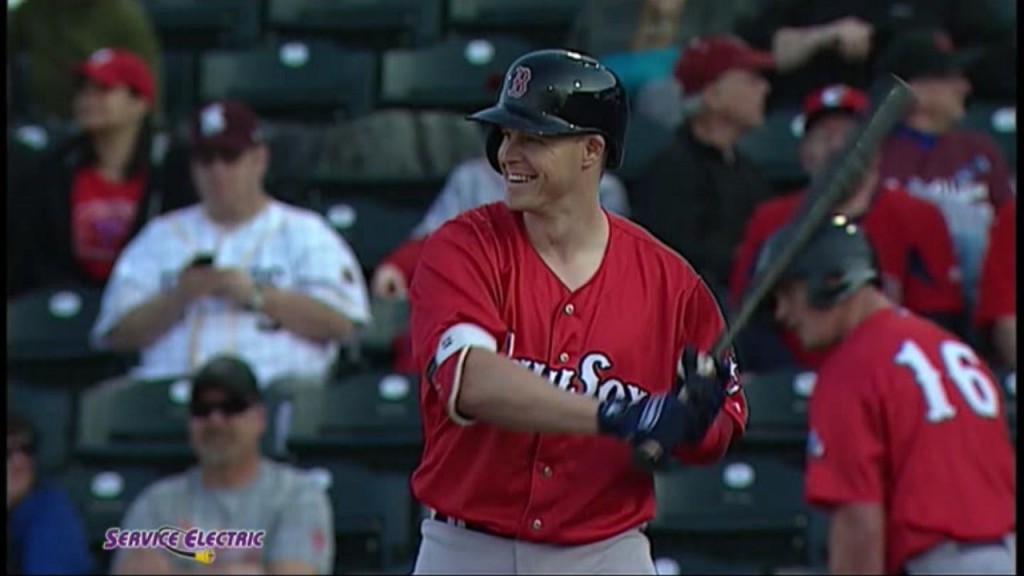 Pawtucket Red Sox Press Release
ALLENTOWN, Penn. — After a wave of excellent starting pitching and a pair of consecutive shutouts over the weekend, the Pawtucket Red Sox were quieted themselves in a 4-1 loss to the Lehigh Valley IronPigs on Monday night at Coca-Cola Park.
Fresh off a pair of 2-0 shutout victories over the Scranton/Wilkes-Barre RailRiders back at McCoy Stadium, the PawSox (15-13) only collected six hits and scratched out one run against Lehigh Valley (15-14), ending their three-game winning streak.
Rehabbing Red Sox utility man Brock Holt (left hamstring strain) started at shortstop, batted second in the order, played six innings in the field and went 1-for-3 with a single. In his first at-bat, the 2015 American League All-Star grounded a 2-0 pitch behind the mound for an infield single, as Lehigh Valley second baseman Heiker Meneses made a sliding stab on the edge of the outfield grass but didn't attempt to throw out Holt. Three innings later, Holt popped out to shallow center field. In his final at-bat in the top of the sixth, Holt worked the count full and bounced into a 4-3 double play on a ball hit up the middle, where Meneses made an excellent stop and turn. Defensively, Holt made four routine plays, going to both his left and right.
Pawtucket left-hander Josh Smith (L, 0-1) made his third spot start of the season — and just his third career professional start — and allowed three runs on eight hits in four innings. Entering Monday's outing, Smith had only given up one run on 10 hits in 15.1 sterling innings this season. In a similar vein, Pawtucket's starting pitchers hadn't allowed a run over the previous three games (William Cuevas, Chandler Shepherd, Justin Haley).
Hard-throwing right-handed reliever Ty Buttrey then dealt two perfect innings for his best outing of the season. Buttrey began the night leading the International League in strikeouts per nine innings among qualifying relievers, and the North Carolina native struck out two more Monday, including the final batter he faced on a 98 MPH fastball.
PawSox first baseman Jordan Betts (1-for-4, HR) cracked his third home run of the young season, upping his OPS to .918.
Lehigh Valley left-hander Cole Irvin (W, 2-1), a former Oregon Duck, fired seven innings of one-run work in which he only allowed five hits and didn't issue a free pass. Veteran reliever Pedro Beato (S, 8) shored up a four-out save despite allowing a single and walk to begin the top of the ninth inning.
In the bottom of the first, Lehigh Valley loaded the bases with three straight singles and grabbed a run on a sacrifice fly from cleanup man and designated hitter Trevor Plouffe.
Lehigh Valley added to its lead in the bottom of the fourth inning on a pair of singles and an RBI groundout from leadoff man and shortstop Dean Anna, followed by an RBI single up the middle from Collin Cowgill that made it 3-0.
The PawSox finally got to Irvin in the top of the seventh when Betts roped a solo homer down the left-field line to make it 3-1.
The IronPigs snatched that run back in the bottom of the seventh when Plouffe rolled into a 5-4 fielder's choice that was nearly an inning-ending double play.
The PawSox continue the series against Lehigh Valley on Tuesday at 7:05 p.m. Pawtucket right-hander Marcus Walden (0-0, 9.00 ERA) is scheduled to oppose IronPigs lefty Brandon Leibrandt (1-0, 0.00). Radio coverage on WHJJ (920 AM and 104.7 FM) and throughout the PawSox Radio Network begins with the pre-game show at 6:35 p.m.
The PawSox return home to McCoy Stadium May 14-16 (Monday-Wednesday) for a three-game series against the Buffalo Bisons (Toronto Blue Jays). Good seats are available, and fans can visit the McCoy Stadium box office, which is open Monday-Friday from 10 a.m. through 5 p.m., and during all home games. Fans can also call (401) 724-7300 or log on to PawSox.com for tickets.