Broken Portsmouth wind turbine taken down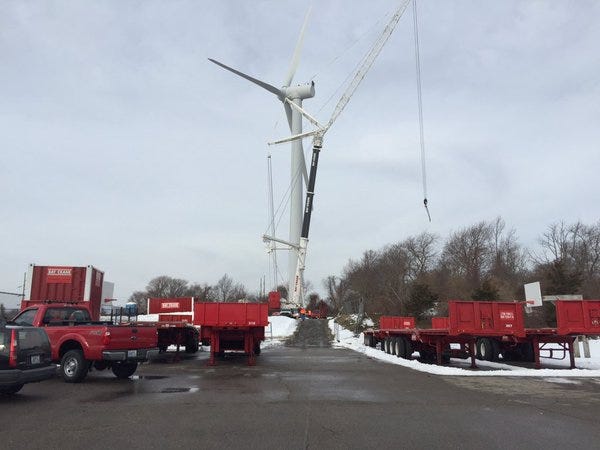 By: Melissa Randall
@MRandallABC6
For the last 2 1/2 years or so the turbine at Portsmouth High School has been locked in place, but no longer.
"We have a crew up top right now disassembling and turning it into position," said Mark Depasquale, owner of Wind Energy Development.
The town built the turbine in 2009, and for a while it was producing energy and all was good, but some where down the line a gear box broke. The company that had put up the more than 200 foot tall turbine went out of business before it failed. Councilman Joseph Robicheau says the writing was on the wall.
"It was an uncertified design I guess you could've anticipated it was going to fail. It was the low bidder," he said.
The town was left with a hefty mortgage of more than a million dollars. WED of North Kingstown has stepped up to take it off Portsmouth's hands.
"We will manage maintain run and supply the town with their power for the next 25 years," explained Depasquale.
Robicheau says it was an offer the town couldn't refuse.
"It's a bit of a gamble but if electricity prices don't go down as long as they keep going up which they likely will then it will pay off the bond and so we should be out of the woods," he said.
The project manger told ABC6 News that it all does go according to plan the turbine could be fully operational by June.
© WLNE-TV 2016