Brother of bride speaks out about massive Lakeview Pavilion fire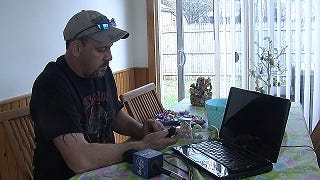 By: Samantha Lavien
Twitter: @samanthalavien
Just days after a wedding at Lakeview Pavilion was cut short by a massive fire, the brides family is speaking out for the first time.
"While they were giving the vows you could smell something burning. I thought it was a campfire or something," said Jamie Levesque, the brides brother. "When they finished you could see the smoke. We ran out back and the wall was glowing."
Levesque says his sister Brandise and her new husband Keith have been together for 14 years.
"It was my sisters dream wedding," said Levesque. Everything the way she wanted it."
Fire investigators say the blaze started because of improper disposal of a cigarette. Some reports had initially said the fire started in mulch, though Tuesday a fire captain told ABC 6 News that is not the case.
Levesque says his family doesn't think a cigarette is to blame and is not happy with the insinuation that someone at the wedding started the fire.
"The investigation seems to say that it was a cigarette that caused the fire which is not true. There was nobody back there smoking," said Levesque.
Levesque showed pictures that he says prove the fire started inside.
"The vinyl is not melted, the mulch is not burning," said Levesque. "In that room, that's burning from the inside out."
Again fire officials say they are confident that a cigarette did start this fire. They expect they'll be able to pinpoint the exact spot where the fire started in the next few days.
(C)WLNE-TV/ABC6