Brown and RISD students develop ideas to combat Ebola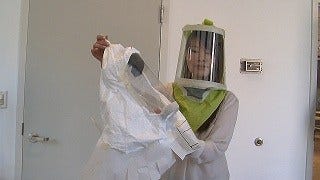 By: Samantha Lavien
Slavien@abc6.com
Twitter: @samanthalavien
Students at Brown and RISD have created several different proposals to help in the fight against Ebola as part of a nationwide challenge.
One of the ideas is an innovative headgear.
"We sort of tapped into looking at the whole face as a way to identify with the doctor and make a deeper connection. So, really that empathy component and it's not just some alien coming in," said RISD student Connie Wang.
The students are very hopeful that some of their ideas like the headgear will actually be implemented.
"I really hope so," said Wang. "Definitely even if it's not particularly for this epidemic right now, I can see this moving forward."
Another one of the creations is a cooling system made from harvested rice.
"It's really expensive to export from the United States cooling packs and stuff like that so we came up with a solution where you can use harvested rice and you can freeze it and then put it in a pouch and wrap it around you," said RISD student Juliette Weiss.
In addition to physical solutions some students also focused on morale and communication. To that regard, one of the teams created a texting system.
"We came up with a very basic phone messaging and texting service where people in these remote locations could actually contact a clearing house and they could find out information," said RISD student Deb Rosenberg.
Those ideas as well as several others have been submitted to the U.S. Agency for International Development as part of a competition.
© WLNE-TV 2014