Brown Baseball Drops Two Games To Princeton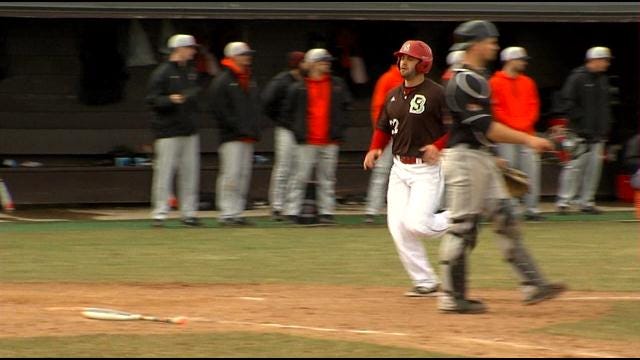 Brown University Press Release
PROVIDENCE, R.I. – Freshman Marc Sredojevic (Mendham, N.J.) drove in a pair of runs and senior Wes Van Boom (Trabuco Canyon, Calif.) and junior Nick Fornaca (San Diego, Calif.) posted two hits each, but the Brown baseball team dropped a pair of games to Princeton, 3-2 and 10-16, in Ivy League play Saturday at Murray Stadium.
Brown moves to 6-12 on the season and 0-6 in league action, while the Tigers improve to 9-12 overall and 4-0 in the league.
In the first game, senior Anthony Galan (Watchung, N.J.) went the full seven innings, allowing three runs in the loss with six strikeouts.
Princeton was first to score with two runs on four hits in the top of the third, using back-to-back RBI singles by Paul Tupper and Zack Belski to give the visitors the two-run lead. The Tigers added another run in the fourth, when Billy Arendt hit a solo shot over the right field fence to pad the lead, 3-0.
Brown answered back in the bottom of the frame as junior Dan Kerr (Westfield, N.J.) hit a single to second, before Fornaca crushed a two-out RBI double to trim he deficit to 3-1.
The Bears fought until the final inning with a run in the bottom of the seventh when J.J. Franco (New York, N.Y.) sent in Tim McKeithan (Arden, N.C.) on a groundout, but Princeton starter Michael Fagan retired the final batter to record the complete game and seal the win.
Freshman Christian Taugner (Roselle, Ill.) took the loss for the Bears in the second game, allowing four earned runs over 4.2 innings to go along with five strikeouts.
After Princeton scored one run in the top of the first, the Bears answered back with a pair in the bottom half of the frame, when Sredojevic singled up the middle to drive on both Will Marcal (Lexington, Mass.) and Franco for the 2-1 lead.
Brown tacked on another run in the second on a single from Jake Levine (Newton, Mass.), but the Tigers scored four runs in the top of the third, taking advantage of a pair of errors to regain the lead, 5-3.
Princeton added five more runs over the next three innings to move out in front, 10-3, before Brown began to chip away with three tallies in the sixth. With the bases loaded, Van Boom started it off with a sacrifice fly to left, before Josh Huntley (Aurora, Colo.) sent in another run on a groundout to short. Fornaca then hit a one-run double to left field, pulling the Bears within four, 9-6.
Nevertheless, Princeton relief pitcher Luke Streiber held the Bears to without a hit over the last three innings to halt the comeback and secure the win.
The Bears return to action tomorrow when they host a doubleheader against Cornell. The first game will start at noon.