Brown Beaten by UNH at Home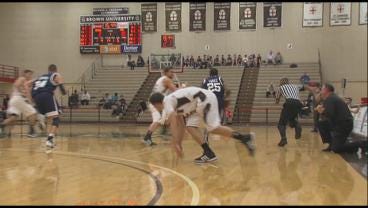 New Hampshire Topples Brown, 69-56
Providence, RI – Guard Alvin Abreu scored 18 points and forward Chandler Rhodes added 16 points and eight rebounds to lead New Hampshire to a 69-56 non-league win over Brown at the Pizzitola Sports Center. The Bears fall to 4-7 with the loss, while New Hampshire evens its record at 3-3 overall.
With the game tied, 44-44, New Hampshire finished the game with a 25-12 spurt to take control in the final 8:21. Rhodes and Abreu each had seven points in the decisive run on a mixture of treys and free throws.
The Bears struggled from behind the three-point arc, connecting on just 3 of 14 treys, while New Hampshire connected on 8 of 18 treys, led by Abreu, who connected on 3 of 4 shots from behind the three-point arc. Brown was out-rebounded by New Hampshire by a 42-26 margin.
Sophomore Sean McGonagill's 15 points and five assists led the Bears, while junior forward Andrew McCarthy registered his third double-double of the season, scoring 14 points, while pulling down a game high 12 rebounds.
Bears' freshman forward Longi Yiljep provided a lift for the Bears, coming off the bench to score a career high eight points.
Two more New Hampshire players scored in double figures, Patrick Konan with 11 points, and Ferg Myrick with 10 points.
The Bears struggled out of the gate, falling behind by a 15-2 margin in the game's first five minutes. The Wildcats hit six of their first seven shots, while Brown connected on just 1 of 6 field goals.
In a game of streaks, Brown settled down to out-score New Hampshire, 18-5, over the next 10 minutes to tie the game, 20-20, with 3:42 left in the half, following a lay-up by junior forward Tyler Ponticelli.
New Hampshire finished the half with a 7-2 spurt to pull ahead, 27-22, at intermission.
The Bears tied it up, 44-44, on a lay-up by McGonagill with 8:21 left in the game.
New Hampshire went on a 12-5 streak to break the game open, 56-49, following a free throw by Chris Matagrano with 4:56 left in the game. The Wildcats later extended their lead to nine points, 62-53, with 2:15 left after a Jordan Bronner three-point play.
Brown plays its final game of the first semester, hosting Central Connecticut on Saturday, December 10. Game time is 2:00 p.m. at the Pizzitola Sports Center.