Brown Comeback Falls Short at NJIT in Final Non-League Game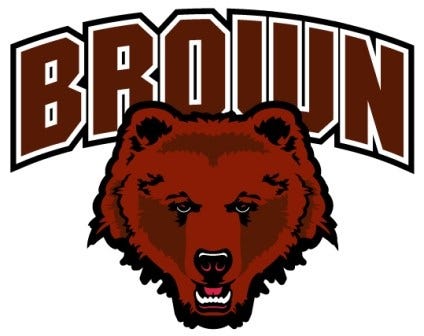 Brown news release…
Newark, N.J. – Brown mounted a furious challenge in the final four minutes, but an earlier 18-point second half deficit was too much to overcome, falling to NJIT, 75-73 at the Fleisher Athletic Center. Senior forward Steven Spieth (Dallas, TX) paced five double figure scorers for the Bears with 16 points.
Brown completed its non-league season with a school-record nine wins, posting a 9-7 record overall. NJIT improved to 8-8 with the victory.
Trailing by 13 points, 67-54, with 4:13 remaining, Brown got back in the game with an 11-1 run to trail by just three points, 68-65, on a trey by Spieth with 1:27 remaining. Senior guard JR Hobbie (Spring Lake, NJ) connected on a trey and two free throws in the spurt.
After NJIT built a five point lead, 70-65, on two free throws by Abdul Lewis, Bears' sophomore Corey Daugherty (Barrington, RI) nailed a trey with 29.8 seconds to pull the Bears to within two points, 70-68.
Damon Lynn converted two free throws to put NJIT back up, 72-68, with 27 seconds left to play. Bears' senior Tavon Blackmon (Upper Marlboro, MD) answered with two free throws of his own with 21 seconds left to trail, 72-70.
Two more free throws by Lynn put the Highlanders up 74-70.
Brown sophomore Joshua Howard (Charlotte, NC) converted a three-point play with five seconds remaining to pull to within one point, 74-73, but that was as close as Brown would get as a last second attempt by Blackmon was blocked at the buzzer.
The Bears came into the game ranked second in the nation in free throws made, but it was NJIT who had the better of play from the free throw line. The Highlanders converted 31-of-35 free throws, while Brown connected on 19-of-29 shots from the line.
Spieth registered a double-double for the Bears with a team high 16 points and 10 rebounds, while Howard added 14 points on Freshman Brandon Anderson (Mahwah, NJ) added 12 points for the Bears, while Blackmon and Hobbie tossed in 10 points each.
Anthony Tarke paced the Highlanders with 16 points, and Tim Coleman scored 11 of his 15 points in the second half. Adbul Lewis grabbed a game high 12 rebounds to lift the Highlanders to a 34-29 rebounding margin over the Bears.
Neither team could build a big lead in the opening 20 minutes, with nine lead changes and the score tied six times. A trey by Spieth with 1:21 remaining in the half gave the Bears a 31-29 advantage at intermission.
The Highlanders took control of the game at the outset of the second half, outscoring the Bears 19-5 to build a 15 point lead, 48-33, following a trey by Chris Jenkins at the 14:24 mark.
NJIT held its largest lead, 54-36, following a trey by Tarke with 13:00 left in the game.
Brown will launch its Ivy League season on the road next week, starting on Friday, January 13 at Princeton (8:00 pm) and Saturday, January 14 at Penn in Philadelphia at 8:00 pm. All of the Ancient Eight schools will be vying for a berth in the four-team Ivy League Post-Season Tournament at the Palestra, March 11 and 12.
—