Brown Falls at Niagara While Shooting Just 30-percent From the Floor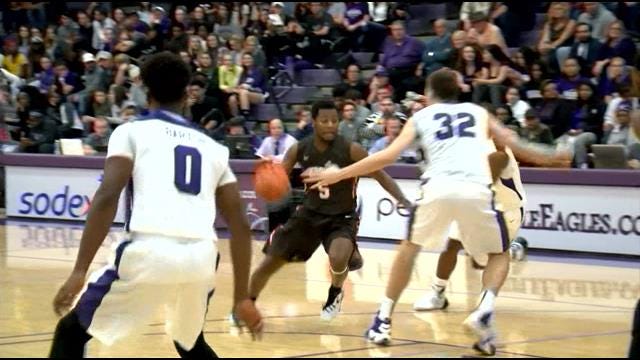 Brown news release…
Niagara Falls, N.Y. – Forward Matt Scott posted a double-double with 23 points and 10 rebounds to lead Niagara to its first win of the season, 75-66, over Brown at the Gallagher Center Wednesday evening. Junior forward Steven Spieth (Dallas, TX) paced the Bears with 15 points.
The Bears fall to 1-2 overall heading into Saturday's match-up with the Providence College Friars at the Dunkin Donuts Center, while Niagara moves to 1-2 overall.
The cold shooting Bears struggled from the field for the entire evening, shooting just 30-percent (23-of-75), while Niagara shot at a 47-percent rate (25-of-53).
Spieth led three Brown double figure scorers with 15 points on 4-of-11 shooting from the field, 5-of-5 from the free throw line, while pulling down nine rebounds. Bears' junior guard Tavon Blackmon ((Upper Marlboro, MD) tossed in 11 points and handed out five assists.
Brown senior forward Cedric Kuakumensah (Worcester, MA) posted his third double-double in as many games with 10 points and a game high 11 rebounds. With three blocked shots against Niagara, Kuakumensah now has 243 career blocks, just nine short of the Ivy League's all-time record of 252 career blocks.
Scott proved to be the difference in the game with 23 points on 8-of-12 shooting. Justin Satchell contributed with 17 points, while Emile Blackman netted 11 points for the Purple Eagles.
Brown trailed 38-30 at the half, but couldn't overcome the deficit in the second half. The Bears got as close as three points in the final 20 minutes, 49-46, on a lay-up by freshman Travis Fuller (Enciniatas, CA) with 13:15 left on the clock.
After falling behind by 10 points, a trey by Bears' freshman Corey Daugherty (Barrington, RI) brought the deficit back to five points, 71-66, with 1:15 remaining.
In the opening half, the Bears held an early 18-17 lead following a trey by junior JR Hobbie (Sping Lake, NJ). A 7-0 run by the Purple Eagles, capped off by a trey by Ali Twe with 7:58 left in the opening gave Niagara a 24-18 lead.
Back-to-back treys by Hobbie settled the game down and tied the score, 24-24.
Niagara closed the half with a 14-6 spurt to lead, 38-30, at intermission. Scott paced the Purple Eagles with 10 points, while Hobbie's nine points led Brown in the opening 20 minutes.
Brown returns to Providence on Saturday, November 21 to battle the Providence College Friars at the Dunkin Donuts Center. The Bears have won two of the last three games over the Friars, including a 77-67 victory last year. Tip-off is 7:00 pm.