Brown Falls Short Against 14th Ranked Union at Meehan Auditorium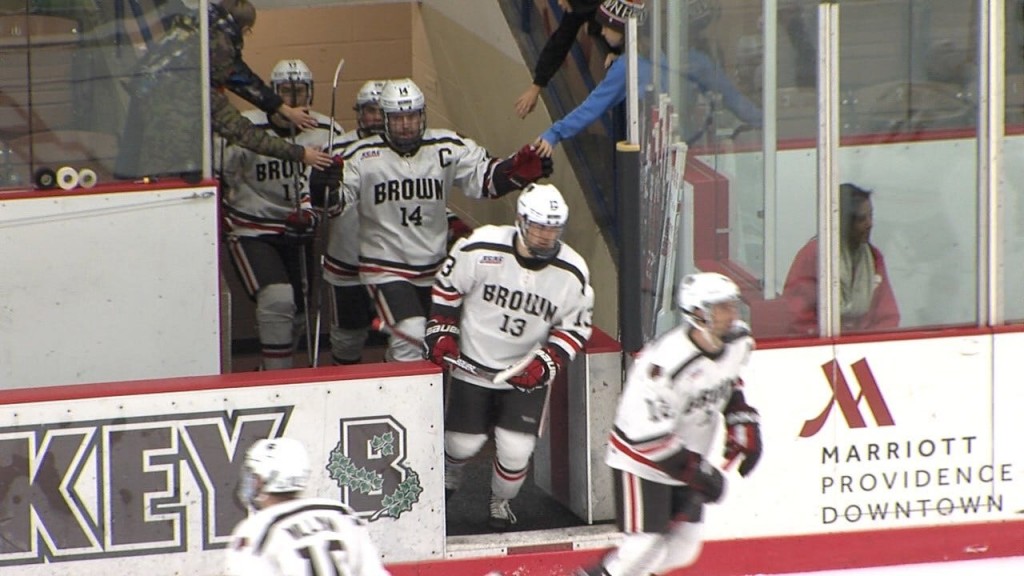 Brown news release…
PROVIDENCE, R.I. – Sophomore Tommy Marchin (Algonac, Mich.) scored late in the second period to pull the Brown men's hockey team within one, but No. 14/15 Union held on for the victory, 3-1, in Friday's ECAC contest at Meehan Auditorium.
Union improved to 11-3-2 overall and 7-1-1 in the ECAC, while Brown dropped to 2-9-0, 1-6-0.
Rookie goalie Gavin Nieto (Yorba Linda, Calif.) tied a career high with 32 saves in the loss. Alex Sakellaropoulos stopped 26 shots for the Dutchmen.
Union jumped on the scoreboard at 7:02 of the first period, scoring three seconds after a hard-fought kill by the Bears. Ryan Scarfo took advantage of numbers and tapped in a feed from Ryan Walker for the one-goal advantage. Union outshot Brown, 12-9 in the opening frame.
Mike Vecchione gave Union a two-goal lead 1:32 into the second period, scoring a shorthanded goal for his nation-leading 17th tally of the season.
Facing a two-goal deficit, Marchin tacked on Brown's first goal of the night with 49 seconds left in the second period, trimming the deficit to 2-1 heading into the locker room. Brent Beaudoin (Londonderry, N.H.) controlled the play behind the net and slid a pass to the right circle, where Marchin fired a shot past Sakellaropoulos for his second of the season. Tim Lappin (St. Charles, Ill.) also picked up an assist on the play.
Brown outshot Union, 13-11, in the second period.
Union took advantage of back-to-back Brown penalties midway through the third stanza, scoring at 10:23 during the second power play, as Spencer Foo rifled a shot over the shoulder of Nieto for the 3-1 lead.
After Brown pulled Nieto with 2:13 remaining, Max Willman (Barnstable, Mass.) was able to get a shot off in front, but Sakellaropoulos came up with the stop and Union collapsed on the play to seal the victory.
Brown will host Rensselaer tomorrow at 4 PM.