Brown Football Falls To Dartmouth, Big Green Move Into First Place In Ivy League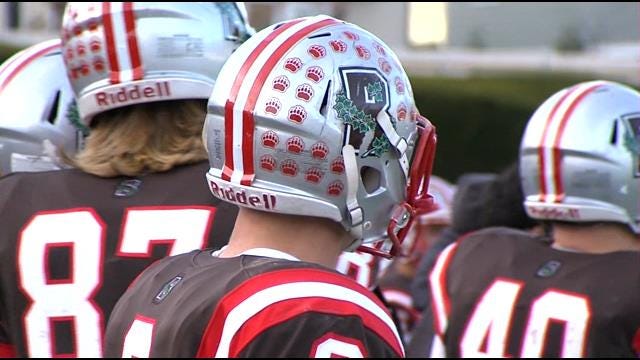 Brown University Press Release
Providence, R.I. – In a game of miscues and high wind gusts, Dartmouth made its way back into first place in the Ivy standings and came away with a 34-18 win over Brown in the Bears' final home game of the 2015 season at Brown Stadium.
Brown, who wraps up its season next Friday evening at Columbia, falls to 4-5 overall, 2-4 in in Ivy play, while Dartmouth, now tied with Harvard in the Ivy standings at 5-1, extends its record to 8-1 overall.
Turnovers continued to haunt the Bears, who turned the ball over four times in the first quarter alone. Overall, the Bears had seven turnovers, while the Big Green turned it over six times.
"Turn the ball over and you lose the game," said Brown head coach Phil Estes. "That's five games we turned the ball over at least four times and lost. I can't figure out how good the teams are we're playing because we keep turning it over."
The 40-mile per hour wind gusts kept the Bears' vaunted passing attack in check all day. Senior Marcus Fuller (Ashland, OH) came into the game as the nation's fourth leading passer in both yards and completions, but was held to 84 passing yards and 13 completions.
Brown mounted a solid rushing attack against the nation's number one rushing defense that had allowed just 76 yards per game. Bear's junior quarterback Kyle Moreno (Pleasanton, CA) paced the Bears with 84 yards on 14 carries, including a five-yard touchdown run. Brown finished with 179 yards on the ground.
Defensively, senior linebacker Ryan MacDonald (Falmouth, ME) and junior defensive back Jordan Ferguson (Ladera Heights, CA) had seven tackles each to pace the Bears. Brown seniors Will Twyman (Sudbury, MA) and Quintin Rizek (Albuquerque, NM) and junior Richard Jarvis (Watertown, MA) each made an interception.
Big Green quarterback Dalyn Williams had thrown just one interception coming into the game and threw three picks against the Bears. Williams completed 11-of-22 passes for 110 yards. Brian Grove and Kyle Bramble led the Big Green rushing attack, with Bramble running for 93 yards and Gove scampering for 90 yards.
The Big Green defense was paced by David Caldwell with nine tackles.
Dartmouth took advantage of a Brown fumble with five minutes left in the opening quarter and scored on its first play from scrimmage, a 61-yard run by Grove, who rambled untouched into the end zone to give the Big Green a 7-0 advantage.
After Brown fumbled the ensuing kickoff at its own 19-yard line, Ryder Stone lifted the Big Green to a 14-0 lead when he burst through for a nine-yard touchdown run at the 3:34 mark of the opening quarter.
Undaunted, the Bears capitalized on a Dartmouth turnover, with Rizek intercepting the Big Green in the end zone to stop a potential Dartmouth score.
Brown marched 80-yards down the field in a workmanlike 17-play drive to get onto the scoreboard when senior Seth Rosenbauer (Lima, OH) plowed his way into the end zone from five yards out to cut Dartmouth's lead to 14-6.
Stone then returned the ensuing kick-off 89-yards for a touchdown to lift the Big Green to a 21-6 advantage with 2:23 left in the half.
Dartmouth put the game out of reach in the third quarter, capitalizing on two more Brown turnovers for a 34-6 lead heading into the fourth quarter.
Moreno scored on a five-yard run midway through the fourth quarter and junior defensive end Robert Hughes (Long Valley, NJ) recovered a Dartmouth fumble in the end zone to bring the Bears to within 34-18 of the Big Green.
Brown wraps-up its 2015 schedule with a rare Friday night game against Columbia on Friday, November 20 at Wein Stadium in New York City. The game will be televised on the NBC Sports Network at 7:30pm.