Brown Football Scores Early, But Penn Offense Dominates In Bears Loss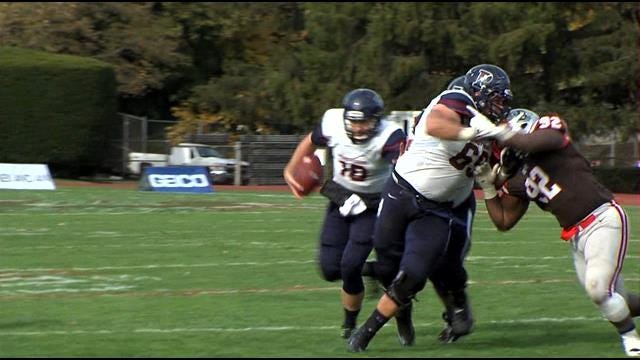 Brown University Press Release
Providence, R.I. – Penn quarterback Alek Torgerson threw for three touchdowns and ran for another to lead the Quakers to a 48-28 win over Brown in a battle for second place in the Ivy league standings. Brown had its four game winning streak snapped and falls to 4-3 overall, 2-2 in the Ivy league, while Penn extends its record to 4-3, 3-1 in Ivy play.
Torgerson threw for 196 yards, completing 15-of-22 passes, while running for 45 yards in just over 30 minutes of action. Tre Solomon rushed for 69 yards and had four touchdowns, two rushing and two passing.
Bears' junior wide receiver Alexander Jette (North Attleboro, MA), the nation's third leading receiver, made eight catches for 145 yards and a 34-yard touchdown. Senior wide receiver Troy Doles (Saratoga, CA) had eight receptions for 98 yards for the Bears. Senior quarterback Marcus Fuller (Ashland, OH) completed 27-of-51 passes for 323 yards and two touchdowns, but was intercepted four times.
The Bears' defense was paced by junior defensive end Richard Jarvis (Watertown, MA) with nine tackles, including one for a loss. Senior Quintin Rizek (Albuquerque, NM), senior Zachary Gillen (Mt. Brook, AL) and junior Max Tylki (Wethersford, CT) had eight tackles each.
Brown opened the scoring on its first possession to take a 7-0 lead, driving 80 yards in nine plays, with junior Johnny Pena (Tucson, AZ) scoring on a seven-yard touchdown run.
The Quakers immediately responded on their first play from scrimmage with Torgerson connecting on a 79-yard pass play to Justin Watson to knot the score at 7-7.
Penn took the lead following an interception by Sam Philippi. The Quakers drove 64 yards in eight plays with Torgerson throwing his second touchdown pass of the day on a 10-yard screen to Solomon for a 14-7 advantage late in the opening quarter.
Two more Quakers touchdowns, a 13-yard Torgerson run and a two-yard pass from Torgerson to Eric Fiore broke the game open to give Penn a 28-7 lead with 5:11 left in the half.
Penn grabbed a 35-7 lead at the half on a one-yard Solomon run with no time remaining on the clock.
Brown got its offense on track after Penn pulled ahead, 41-7, early in the third quarter.
Fuller connected on a 19-yard touchdown to senior Troy Doles with 4:57 remaining in the third quarter to trail, 41-14.
Jette hauled in a 34-yard touchdown pass from Fuller on Brown's next possession to get Brown back in the game, 41-21, late in the third quarter.
Solomon's fourth touchdown came on a 2-yrd run with 9:33 left in the game.
Brown senior Seth Rosenbauer (Lima, OH) closed out the scoring with a 2-yard touchdown run to complete the scoring.
The Bears head down to New Haven, Conn., to battle Yale on Saturday, November 7 at the Yale Bowl. Kick-off is 12:30 pm on Fox College Sports.