Brown Holds off Columbia for Third Ivy League Win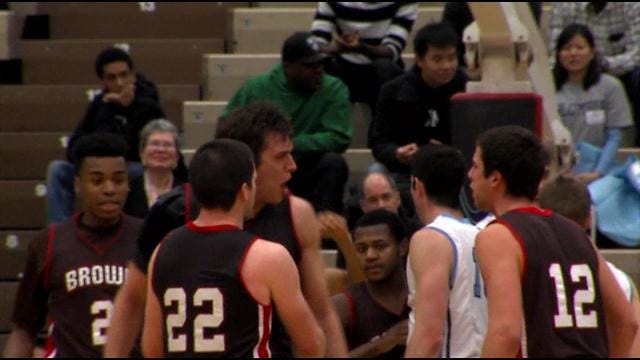 Brown news release…
Providence, R.I. – Brown junior forward Rafael Maia registered his fourth double-double of the season, scoring 18 points and grabbing 12 rebounds to lead the Bears to a 64-56 Ivy League win over Columbia at the Pizzitola Sports Center.
The Bears improve to 11-7 overall and 3-1 in the Ivy League, setting up a showdown at Harvard next Friday evening for first place in the Ivy standings. Columbia falls to 13-8 overall and 2-2 in league play.
Maia connected on 5-of-9 field goals including a career high two treys (2-2), and 6-of-10 free throws. His 12 rebounds helped the Bears out-rebound the aggressive Lions by a 39-32 margin.
"Rafael was a warrior tonight," said Brown head coach Mike Martin. "He doesn't practice on Sundays, Mondays or Tuesdays because of a banged up shoulder. He had to play back-to-back games for the first time this season, and was diving on the floor for loose balls. That was a pretty impressive performance."
Brown sophomore Cedric Kuakumensah scored 13 points, while Sean McGonagill, the Ivy League's top scorer, was held to 10 points. McGonagill also had five rebounds and three assists.
Columbia had four players in double figures, led by Maodo Lo, who scored 13 points and grabbed five rebounds. Alex Rosenberg and Luke Petrasek chipped in with 12 points each, with Petrasek grabbing a team high nine rebounds. Cory Osetkowski added 10 points for the Lions.
In a game that had 13 lead changes and was tied nine times, Brown held a 28-26 lead at the half with neither team leading by more than five points. Maia scored nine points and grabbed six rebounds in the opening 20 minutes.
Columbia opened up a 47-42 lead with 10:23 left in the game, but a 7-2 Brown spurt, capped off by a lay-up by Bears' freshman Leland King with 8:25 remaining, tied the game, 49-49.
A three-point play by Maia at the 6:05 mark gave the Bears the lead for good, 52-49. The Bears opened up a 57-52 advantage on a driving lay-up by freshman Steven Spieth with 2:23 remaining.
The Lions clawed back to within three points, 59-56, with 1:26 remaining on two free throws by Alex Rosenberg. Brown kept the Lions at bay with Kuakumensah's dunk delivering the big play with just 24 seconds remaining on a pass from freshman Tavon Blackmon.
Brown heads north to face Harvard and Dartmouth next weekend, traveling to Boston, MA to battle Harvard on Friday, February 7, at 7 p.m., and then onto Hanover, NH to face Dartmouth on Saturday, February 8 at 7 p.m.