Brown Men's Basketball Routs Marist In Return To Court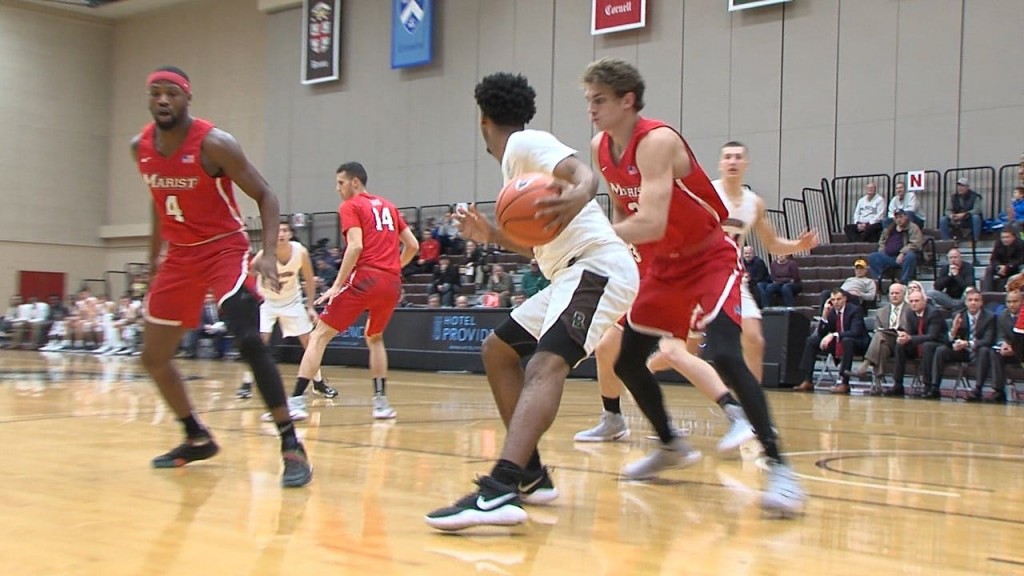 Brown University Press Release
Providence, R.I. – Freshman Desmond Cambridge (Nashville, TN) scored a career high 33 points with 7-of-12 shooting from beyond the 3-point arc, to lead Brown to its second straight win, 90-69, over Marist (2-10) Friday afternoon at the Pizzitola Sports Center.
The 33 points scored by Cambridge are the most by a Brown freshman since Sean McGonagill scored 39 points against Columbia on 2/14/11.
The Bears (6-5), who are coming off a 13-day break for finals, will be idle until a December 30 matchup against Northwestern in Rosemont, IL.
"Our play in the last 30 minutes of the game was outstanding," said Brown head coach Mike Martin. "I was extremely pleased with our 21 assists and just seven turnovers. This was our best performance of the year and a great way to go into the Holiday break."
Cambridge connected on 11-of-21 field goals and 4-of-4 free throws, while grabbing five rebounds. The seven treys by Cambridge rank eighth best in the Brown record book.
"I was feeling good today," said Cambridge. "My teammates saw I had the hot hand and kept feeding me for some open treys."
Bears' sophomore forward Josh Howard (Charlotte, NC) scored 10 of his 13 points in the opening half, while adding a career high five assists. He connected on all five of his field goals and 2-of-3 free throws.
Sophomore guard Brandon Anderson (Mahwah, NJ) had 13 points, five assists and four steals for the Bears, while sophomore Zach Hunsaker (Orem, UT) added 12 points.
Isaiah Lamb netted a team high 28 points for Marist, hitting 11-of-17 field goals and 5-of-5 free throws. Brian Parker chipped in with 19 points and six rebounds for the Red Foxes.
Trailing 25-24 with 8:56 left in the opening half, Brown outscored the Red Foxes, 22-6, to end the half and build a 46-31 lead at intermission. Cambridge had nine points in the closing spurt and 14 first half points.
Brown kept up the pressure and led by as many as 26 points in the second half, 89-63, on a three-point play by senior Jason Massey (Cooper City, FL) with 3:30 left in the game.
The Bears are back in action after the Christmas holiday, flying into Chicago, IL to battle Northwestern. With ongoing renovations to their on-campus facility, the Wildcats will host the Bears at Allstate Arena with tip-off at 11:00 a.m. CST.