Brown Opens the Season with a Win Over St. Peter's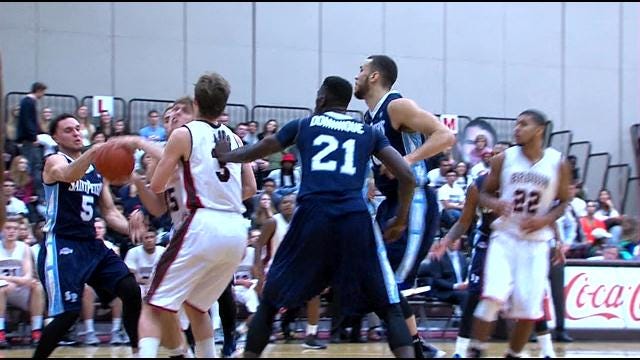 Brown news release…
Tavon Blackmon's 18 Points Leads Brown Over St. Peter's, 70-58
Providence, R.I. –Sophomore point guard Tavon Blackmon (Marlboro, MD) scored a game high 18 points, and two-time Ivy League Defensive Player of the Year Cedric Kuakumensah (Worcester, MA) added 15 points and to lead Brown to a 70-58 season opening win over St. Peter's at the Pizzitola Sports Center.
Blackmon did most of his damage from the free throw line, hitting 8-of-8 shots from the charity stripe and 4-of-7 shots from the field.
Kuakumensah's 15 points came on sizzling 7-of-9 shooting from the field. He also pulled down six rebounds and blocked three shots, giving him 162 career blocks, just one short of the Brown record.
Brown senior forward Rafael Maia (Sao Paulo, Brazil) also scored in double figures with 13 points, while adding seven rebounds. Bears' sophomore guard Steven Spieth (Dallas, TX) pulled down a game high eight rebounds.
St. Peter's was led by forward Welton Quadir, who scored 16 points on 6-of-10 shooting from the field, and grabbed seven rebounds. Marvin Dominique had 11 points and eight rebounds for the Peacocks, while Desi Washington chipped in with 11 points.
The Bears jumped out to a 16-11 lead, but St. Peter's came back to pull ahead by a 20-19 margin on a trey by Trevis Wyche with 7:46 remaining in the half.
Blackmon connected on a trey with 1:20 left in the half, capping a 13-2 Brown run, to lift the Bears to their biggest lead of the half, 32-22, at intermission.
The Bears outscored the Peacocks, 12-2, to open the second half and break the game open, grabbing a 44-24 advantage with 16:00 remaining following back-to-back treys by its big men, Kuakumensah and Maia.
St. Peter's quickly got back in the game, outscoring the Bears, 8-0, over the next three minutes to cut Brown's lead to 44-32, on a dunk by Marvin.
Brown went back up by 16 points, 48-32, on a layup by Kuakumensah at the 12:15 mark of the second half.
The closest St. Peter's could get down the stretch was eight points, trailing 56-48, with 3:51 left in the game. But Blackmon hit 7-of-7 free throws down the stretch to seal the Brown win.
Brown is back in action again on Monday, November 17, hosting BigTen rival Northwestern at the Pizzitola Sports Center. Tip-off is 7:00 pm.