Brown Survives Columbia's Scare, Sweeps Weekend, Improves to 2-2 in Ivy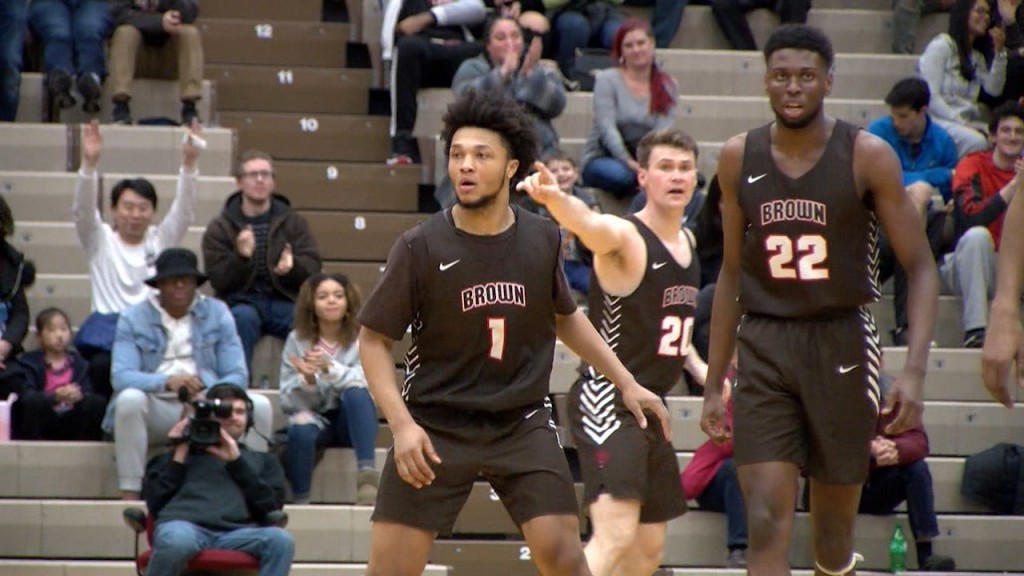 Brown held Columbia scoreless for nearly five minutes down the stretch and junior Tamenang Choh posted a double-double with 18 points and 10 rebounds, to rally the Bears past the Lions, 72-66, in an Ivy League game at the Pizzitola Sports Center.
Brown improves to 9-8 overall, 2-2 in the Ivy League, while Columbia falls to 6-14 overall, 1-3 in Ivy play.
"That was a good basketball game," said Brown head coach Mike Martin. "We won it down the stretch with great defense. We pride ourselves in being a good defensive team and we certainly showed it in the final five minutes."
Trailing 36-28 at the half, Columbia made a strong second half comeback and pulled ahead, 62-58, on a layup by Mike Smith with 5:04 left on the clock.
That's when Brown's defense took over the game, keying a 14-0 run to put the game away.
Bears' freshman guard Dan Friday (Detroit, MI) tied the game with a 3-point basket, 62-62, and sophomore Jaylan Gainey's (Greensboro, NC) dunk gave Brown the lead for good, 64-62, with 2:47
David Mitchell (Roxbury, MA) made two big defensive plays in the final five minutes, getting a jump ball with 23.8 seconds remaining, giving Brown possession, and making a steal with 15.6 seconds left.
Brown connected on 8-of-10 free throws in the final 1:01, including two by Brandon Anderson (Mahwah, NJ), three by Zach Hunsaker (North Salt Lake City, UT) and three by Choh.
The Lions didn't score again until Smith converted a layup with eight seconds remaining.
Choh connected on 5-of-13 field goals and 8-of 12 free throws in scoring 18 points, while adding a team high five assists. Hunsaker had another good performance, scoring 14 points on 4-of-8 shooting from the field, including 2-of-3 from beyond the three point arc. Anderson also chipped in with 14 points.
Friday's clutch trey helped him to nine points overall on 4-of7 shooting from the field. Gainey continues to be impressive in the paint with six points, six rebound and three blocked shots.
Smith led all scorers, netting 18 of his game high 20 points in the second half. Ike Nweke scored 14 points and grabbed six rebounds for the Lions.
Brown's defense held Columbia to just 5-of-17 shooting from beyond the three-point arc.
In a closely played first half, Brown trailed the Lions, 24-22, with 4:52 remaining in the half after Jake Killingsworth knocked down a trey for Columbia.
Brown closed the half with a 14-4 run, capped off by a layup by Josh Howard (Charlotte, NC) with nine seconds left, to grab a 36-28 lead at intermission.
Brown continues its five-game homestand next weekend, hosting Dartmouth on Friday, February 7 at 7:00 pm and Harvard on Saturday, February 8 at 6:00 pm. Watch all the action on ESPN+. Brown's annual Alumni Game will be played on Saturday afternoon prior to the game against Harvard, and legendary Providence Journal sportswriter and author Bill Reynolds '68will be recognized in pre-game ceremonies for his induction into the United States Basketball Writers Hall of Fame.