Brown Swept by Princeton in Saturday Doubleheader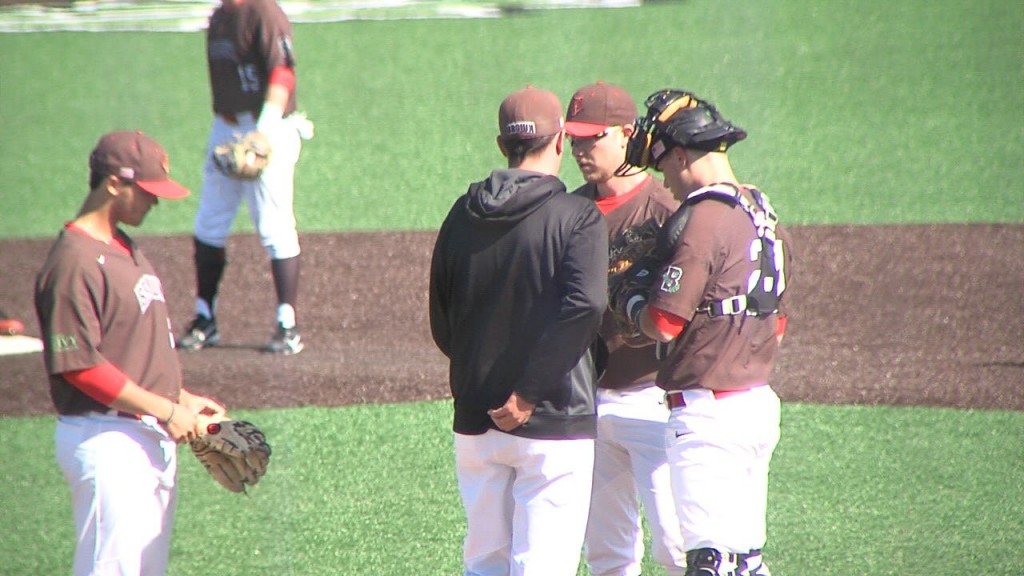 he Brown baseball team dropped both ends of a doubleheader to Princeton, 7-4 and 4-3, as the two teams opened a three-game series Saturday at Attanasio Family Field at Murray Stadium.
Brown moved to 6-15 overall and 2-6 in the Ivy League, while Princeton improved to 7-12, 4-1.
Game 1: Princeton 7, Brown 4
Princeton broke a tie game with three runs in the top of the ninth to secure the win in the series opener. Sam Grigo (Westbrook, Conn.) and Cameron Deere (Los Angeles, Calif.) paced the Bears with two hits apiece, while Calvin Farris (San Diego, Calif.) added a pair of RBIs.
Rookie Collin Garner (St. Augustine, Fla.) gave up four earned runs over 7.0 innings as the starter before Farris took the loss in relief. Eli Kimbell pitched 3.2 innings of one-hit ball out of the bullpen to pick up the win.
Princeton opened the game with one run in the first, but Deere answered in the bottom half with a two-out single to left field. Princeton then took a one-run lead on a solo homer in the second.
The Tigers tacked on two more runs in the sixth, but the Bears responded with three runs on a trio of hits in the bottom half, starting when Joe Lomuscio (West Roxbury, Mass.) hit an RBI double to right center. Farris followed with a pinch-hit single up the middle to send home two runs and even the score.
Princeton scored three runs on three hits and one error in the ninth to move out in front, before Kimbell ended the outing with three straight outs to claim the opener.
Game 2: Princeton 4, Brown 3
Deere added two more hits in the second game for the four-hit day, while Rich Ciufo (Medford, N.Y.) went 2-for-3 with a walk.
Will Tomlinson (Irvine, Calif.) allowed three runs over 5.1 innings to go along with seven strikeouts. Ben Gross picked up the win for the Tigers and Tanner Kliewer earned a three-inning save.
Princeton scored three runs over the first six innings for the 3-0 lead, but the Bears came alive in the bottom of the sixth, when Garett Delano (Callahan, Fla.) hit a sacrifice fly to right field. The Bears then added two more runs in the seventh inning as Deere and Hunter Carey (North Hampton, N.H.) both singled and then crossed the plate on consecutive sacrifice flies to trim the deficit to one, 4-3.
Nevertheless, Kliewer limited the Bears to one hit over the final two frames to seal the win.
Brown will host Princeton in the series finale Sunday at 1 PM. The game will be broadcast live on the Ivy League Network.