Brown University students test drone delivery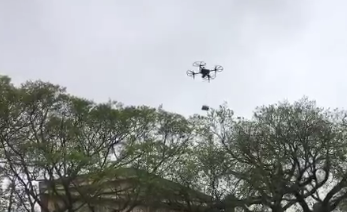 It's a bird, it's a plane, it's cookies? Dozens of Brown students lined the main green Tuesday afternoon, their eyes to the sky eagerly awaiting a delivery drone with its cargo of Insomnia Cookies.
"I thought it was going to be like cookies falling from the sky but it was still pretty cool that we can use this type of technology to do something like that," says freshman Nkem Ugwu.
2 entrepreneurial students modified a drone to bring items from point A to B, creating a special tether to keep deliveries safe as they fall. It's a system they hope they can turn into a business someday.
"The main scope of today is to test the delivery system so the tether that drops the cookies from the drone down to the ground," says Jacob Dyer, co-creator of A2Z Drone Delivery.
Dyer and his partner will use today's demo experience to continue working on the technology behind the delivery system. He says in the future drones could play a significant role in delivery services.
"It's going to be a huge part of society especially with things like addressing natural disasters, places where you need to get in to some place but infrastructure might be broken," says Dyer.
Until then students are happy to watch technology used in new ways and of course get free cookies.
©WLNE-TV / ABC6 2017