Brown Upsets URI on the East Side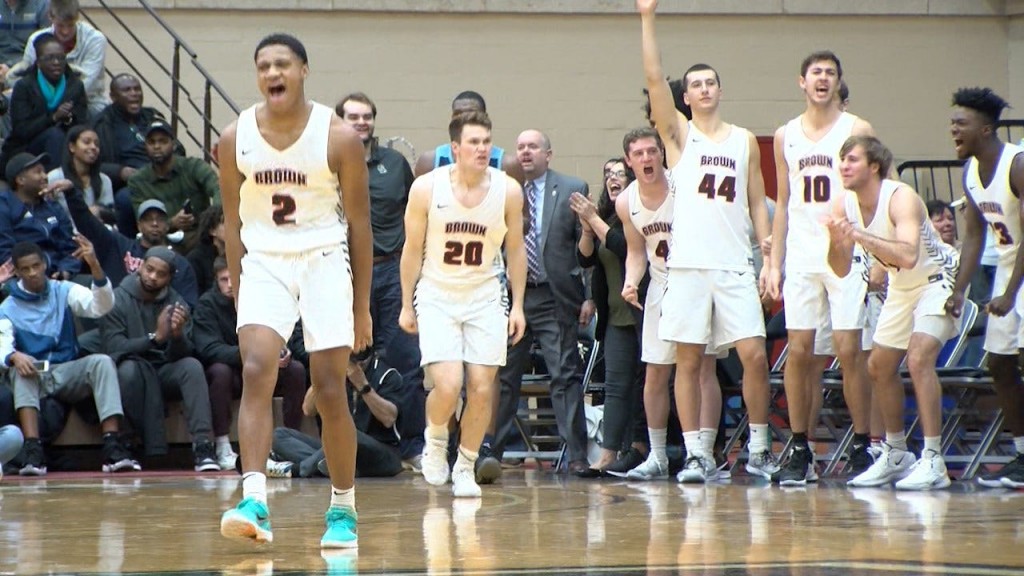 Senior Zach Hunsaker (North Salt Lake City, UT) scored a career-high 22 points to lift Brown to a stunning 85-75 win over Rhode Island Thursday evening before a near sellout crowd at the Pizzitola Sports Center.
The win gives Brown (6-6) the unofficial Rhode Island Championship with a 2-0 Ocean State mark, while Rhode Island falls to 8-4 overall, 1-1 against Ocean State teams.
"I told our guys before the game that we're playing for a championship, and we'll be the only team undefeated in state games," said Brown head coach Mike Martin. "For us to out-rebound URI by nine rebounds shows just how hard our team played. Zach (Hunsaker) was unbelievable tonight, providing poise, great shooting and leadership."
Brown out-rebounded the Rams by a 45-36 margin and handed out 18 assists on 27 baskets. The Bears had an advantage at the free throw line, converting 18-of-22 free throws, while URI hit 12-of-21 free throws.
Hunsaker connected on a career-high six treys in scoring his career-best 22 points, connecting on 6-of-8 of his 3-point attempts, while grabbing four rebounds.
Brown senior Brandon Anderson (Mahwah, NJ) scored 18 points, hitting 8-of-8 free throws, while junior Tamenang Choh (Lowell, MA) tossed in 15 points, pulled down eight rebounds and added seven assists in a complete performance.
Brown's bench outscored the Rams by a 25-9 margin, led by sophomore Jaylan Gainey (Greensboro, NC) who scored all of his eight points in the second half, all on dunks. Freshman Dan Friday (Detroit, MI) added seven points off the bench.
Fatts Russell paced the Rams with 25 points and four assists. Cyril Langevine (12 points), Jermaine Harris (10 points) and Jeff Dowtin (10 points) also scored in double figures for the Rams. Tyrese Martin pulled down a game-high 11 rebounds with nine points.
Trailing 32-31 in a fiercely played opening half, Brown outscored the Rams, 7-0, to end the half and lead, 38-32, at intermission. A layup by Hunsaker, a trey by freshman Perry Cowan (Chicago, IL) and a layup by junior Matt DeWolf (Barrington, RI) accounted for the seven points.
The Rams out-scored the Bears, 8-0, to open the half and grab a 40-38 advantage.
'
Brown responded in a big way, going on an 20-5 run, capped off by consecutive treys by Hunsaker, and two free throws by Friday, to give the Bears a 58-45 lead with 10:47 remaining.
Brown's largest lead of the half came on another Hunsaker trey with 9:06 left in the game to give the Bears a 63-46 lead.
The Rams made a last ditch run at the Bears, cutting Brown's lead to five points with 3:46 remaining, 69-64, on a layup by Russell.
But Hunsaker answered the bell once again with his sixth trey at the 3:29 mark, putting the Bears ahead, 72-64.
Brown plays its third Ocean State team next Tuesday, January 7, hosting Johnson & Wales at the Pizzitola Sports Center. Tip-off is 7:00 pm on ESPN+ and WPRV AM 790.