Brown, URI Set To Meet in 104th Governor's Cup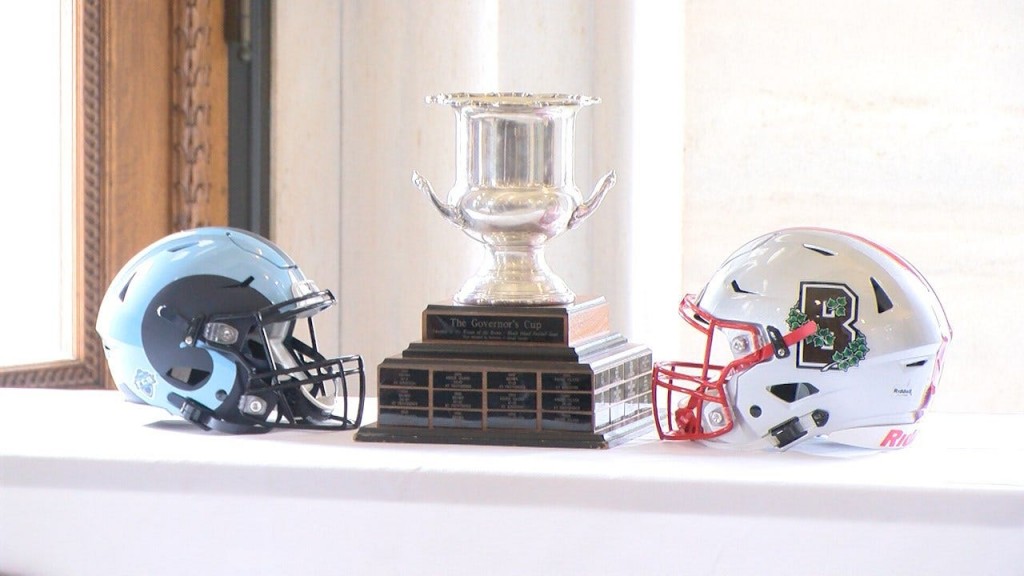 BROWN PRESS RELEASE:
The rejuvenated Brown football team takes the field for the 104threnewal of the Governor's Cup football game on Saturday, October 5 against URI, with Bears' first year head coach James Perry '00 returning to the field where he led the Bears to the Ivy League Championship and was named the Ivy League Player of the Year. All the action kicks-off at 12:35pm on ESPN+.
The Records: Brown (1-1) grabbed an early 7-0 lead, but Harvard scored 42 unanswered points in a 42-7 win for the Crimson in the Ivy League opener last Friday evening. URI (0-4) may well be the best 0-4 team in the nation after falling to Stony Brook, 31-27, Saturday evening on a late touchdown. The Rams have also lost games to FBS Ohio University (41-20), #20 Delaware (44-36 triple OT) and New Hampshire (27-24).
The Governor's Cup History – 104th Meeting:Brown and Rhode Island have met 103 times, dating back to 1909, with the Bears holding a 73-28-2 series advantage over the Rams. Last year, URI earned its first ever shutout win over the Bears, 48-0, at Meade Stadium. Brown captured the Governor's Cup in 2017 by rallying to score 21 unanswered points in the third quarter and come away with a 24-21 come-from-behind victory over the Rams. Over the last 10 years, Brown is 7-3 against the Rams. Historically, Brown won the first 23 meetings between the two teams, the first 16 by shutout. The Bears and Rams met continuously for 67 years, from 1925 to 1991, but a scheduling snafu temporarily disrupted the series. The series resumed in 1993. Two previous Rhode Island Governors have played in the Governor's Cup game: Phil Noel, Brown Class of 1954, and Donald Carcieri, Brown Class of 1965.
Bear Facts: Brown's 1999 Ivy League Championship team will be recognized at halftime of Saturday's game…The Bears open a three-game home stand against Rhode Island with additional home games coming up against Holy Cross (10/12) and Princeton (10/19)…Sophomore Allen Smith rushed for 80 yards, including a 22 yard touchdown scamper vs. Harvard…Bears' head coach James Perry '00 was 2-1 against URI as Brown's starting quarterback…Sophomore LB Jason Mederios' interception at the goal line as time expired vs. Bryant was his first career interception…EJ Perry was named the National, Ivy League and New England Player of the Week after rushing for 227 yards and two touchdowns and throwing for 183 yards and three touchdowns vs. Bryant. His 94-yard TD run against Bryant was one yard short of the Brown school record and matched the 94-yard run by Bob Flanders vs. Yale in 1968. Only Mark Kachmer's 95-yard run vs. Yale at the Yale Bowl in 2011 is longer. …Senior WR Demitri Jackson caught a career high eight passes vs. Bryant, including his first career TD reception of four yards…Bears' junior FS Davis Bak paced the squad vs. Bryant with 10 total tackles… Junior LB Ryan Putman intercepted his first career pass vs. Harvard.
Fast and Faster:Head coach James Perry has developed a dynamic and fast style of offense that translates into points on the scoreboard. In two years as head coach at Bryant, Perry's squad averaged 30.3 points per game his first year and 32.5 points per game in 2018, scoring a school record 56 points in its final game against Howard. His 2013 offense at Princeton set league records for points (43.7) and yards (511.6) per game.
EJ Perry At the Helm: Junior quarterback EJ Perry (Andover, MA), a transfer from Boston College, who saw action in five games for the Eagles last season, excelled in Brown's opening win over Bryant, being named the STATS FCS National Offensive Player of the Week, Ivy League Offensive Player of the Week and the Jack Grinold/Eastern Mass. Chapter of the NFF Gold Helmet Award recipient. Perry accounted for five touchdowns (three passing, two rushing) and 410 yards of total offense against the Bulldogs in his Brown debut. Perry passed for 183 yards, completing 21-of-32 passes, and three touchdowns, and ran for another 227 yards and two touchdowns, including a 94-yard touchdown run, the second longest rushing play in Brown football history. His 227 rushing yards are the eighth most in the Brown record book and most ever for a Brown quarterback. Only Mark Kachmer's 95-yard run vs. Yale at the Yale Bowl in 2011 is longer than Perry's 94-yard TD scamper.He threw for 162 yards vs. Harvard, completing 17-of-27 passes. The Massachusetts high school state record holder for single season touchdown passes (47), Perry threw for 98 yards with 12 completions against Clemson in 2018. In Brown's two-quarterback system, junior quarterback Michael McGovern (St. Louis, MO) completed 2-of-2 passes for 17 yards vs. Bryant and 1-of-2 passes vs. Harvard. He led the Ivy League with 220.20 passing yards per game in 2018, while throwing eight touchdown passes. McGovern will also see considerable action. Junior Mitchell Jonke (Lucas, TX) is also expected to see action. Expect the Bears to have multiple quarterbacks on the field at the same time.
Deep at Wide Receiver:All three of the Brown starting wide receivers return to the lineup to give the Bears a speedy and dynamic receiving corps. Senior All-Ivy LJ Harriott (Central Islip, NY), who had three catches for 56 yards vs. Bryant and three receptions for 13 yards vs. Harvard, led last year's receiving corps with 31 receptions and 413 receiving yards. Junior Scott Boylan (Bakersfield, CA) caught two touchdown passes vs. Bryant (four and five yards) and made two catches vs. Harvard, after making 30 catches for 355 yards in 2018. Senior Demitri Jackson (Nashua, NH) eclipsed his 2018 season reception total with eight catches for 76 yards and his first career TD reception (four yards). Junior Dan Gemmell (Andover, MA) also looks to be a receiving favorite after pacing the Bears with four receptions for 53 yards vs. Harvard and making three catches for 29 yards vs. Bryant. Senior Jakob Prall (Tipp City, OH) came up with three catches vs. Harvard after registering 25 catches for 394 yards and two touchdowns in 2018.
Plowing the Road:The Bears return four of five starters to the offensive line, led by senior tackle and All-Ivy selection Phil Lynch (Milton, MA). Senior Nick Allsop (North Easton, MA) returns at guard, junior tackle Chad Broome-Webster (Orlando, FL) at tackle and senior Toby Okwara (Charlotte, NC) at center. Senior James Carnevale (North Andover, MA) and junior Tucker Barnes (Hahira, GA) have also emerged as top linemen.
Pyne – Last Year's Ivy Leader In Tackles:Bears' senior outside linebacker Brendan Pyne (Bradenton, FL) made four tackles vs. Bryant and five tackles, including one for a loss, vs. Harvard. He led the Ivy League in solo tackles (48) in 2018 and is the Ivy League's returning leader with 8.4 tackles per game. He registered a career-high 14 tackles vs. Columbia and 10 tackles vs. Cornell and Yale.
The Defensive Backfield:The Bears' defensive backfield returns several players from a year ago of sophomore corner Charlie Dallape (San Francisco, CA), sophomore safety Clay Perrin (Pflugerville, TX), junior free safety Davis Bak (Tampa, FL) and junior corner BJ Ubani (West Covina, CA). Bak had a team high 10 tackles vs. Bryant and six tackles vs. Harvard. He ranked seventh on last year's team with 38 tackles. Perrin made eight tackles vs. Bryant, including five solo hits, and ranked 15thin the Ivy League with 53 total tackles last season. Dallape and Ubani each made three tackles vs. Bryant. Freshman FS Josh Ofili(Katy, TX) played a key role in Brown's win over Bryant with four tackles, including two for a loss and a sack.
The Running Game:After an injury-ridden season in the offensive backfield, the Bears look to capitalize on a talented rushing attack in the new offense. Sophomore Allen Smith (Westerville, OH) paced the Bears with 80 rushing yards vs. Harvard, including a 22-yard touchdown scamper. He led the Bears in rushing in 2018 with 175 yards, despite missing four games. Senior Andrew Bolton (Troy, NY) ran for 90 yards last season and rushed for 19 yards on six carries vs. Bryant. Sophomore Will Such (Cranston, RI) ran hard in the team scrimmage vs. Yale and has switched from linebacker to running back.
Head Coach James Perry: Bears' head coach James Perry '00 has returned to his alma mater to lead the Brown football program. He's been able to find success throughout his career, posting a 23-7 record as a three-year starter at quarterback at Brown and throwing for an Ivy League record 9,294 career yards. He led the Bears to their first Ivy title in 23 years (1999), while being named the Ivy League Player of the Year and Bulger Lowe Award winner as the outstanding player in New England. He was named the Ivy League's Player of the Week an Ivy record nine times throughout his career. As the quarterbacks coach at Brown, Perry earned an Ivy Championship ring in 2008. He also won Ivy League titles as Off. Coordinator at Princeton in 2013 and 2016. He comes to Brown from Bryant where he was the head coach for two years.
More Defensive Linemen: Senior Elijah Pierre(Rockland, MA) earned a starting role on the inside and responded with three tackles for loss and a quarterback sack vs. Bryant. Pierre made four tackles, including a QB sack vs. Harvard. He made 13 tackles a year ago. Junior Ryan Putman (Greenville, SC) intercepted a pass vs. Harvard, while making three tackles. He has claimed a defensive end starting nod after making 34 tackles and four tackles for a loss. Junior Jarred Daul (Portland, OR) made three tackles vs. Bryant after making seven tackles last year. Junior Callum Flanders (Braintree, MA) has transitioned from tight end to defensive end and earned a starting role.
Hoecht Anchors Defensive Front:Two-year team captain defensive tackle Michael Hoecht (Oakwood, OH) made four tackles and earned a sack vs. Bryant and registered three tackles, including two for a loss against Harvard. He led the Bears with four quarterback sacks in 2018 and his 69 total tackles were third on the Brown team and 10th in the Ivy League. Hoecht had 6.5 tackles for loss overall. With 13.0 career sacks, Hoecht will be pursuing Brown's all-time record of 19 sacks by Louis Ames (1998-2000).
Brown's All-Time Career Sack Leaders
1. Louis Ames (1998-2000) 19
2. Richard Jarvis (2014-2017) 17.5
3. Brett Atkins (1993-94) 16
4. James Develin (2006-2009) 15
5. John Prassas (1978-1980) 14.5
— Michael Hoecht (2016-present)13.5
The Kicking Game:Senior Dawson Goepferich (Holt, MO) returns to the lineup after handling most of the kick-off duties a year ago. Goepferich connected on 5-of-5 extra points and punted once for 41 yards vs. Bryant.
Freshmen Make The Grade:Brown's opening day depth chart had eight freshmen listed as back-ups: tight end Chris Boyle (Columbus, OH), tackle Hunter Keneley (San Clemente, CA), linebacker Ethan Royer (Hilliard, OH), wide receiver Hayes Sutton (Norcross, GA), corner Jalen Fisher (Northridge, CA), safety Josh Ofili (Katy, TX), corner Cooper DeVeau (Foxboro, MA) and kicker Jacob Kopeld (Morristown, NJ).
How Do You Say That?
Carnevale car-na-val
Dallape doll-a-pay
Ejiogu-Dike EE-jou deek-ay
Fadule Fa-dool
Gemmell gem-ell
Goepferich Go-frich
Hoecht hoyte
Ifediora E-fay D-ora
Jonke jon-key
Logie low-gee
Loolo low-low
Ochs oaks
Stoeckel steck-el
Turbyfill tur-bee-fill
Ubani oo-bani
More Linebackers:Overall, Brown's linebacking corps features seven of the top eight players from a year ago. On the inside, junior Kingsley Ejiogu-Dike (Brockton, MA) registered five tackles vs. Bryant and six tackles vs. Harvard. He made 28 tackles, including three for a loss, in a starting role last year. Sophomore Jason Medeiros (Rehoboth, MA) preserved Brown's win over Bryant with an interception at the goal line as time expired, returning it 10 yards before sliding down to end the game. He also had six total tackles against the Bulldogs and added four tackles, including one for a loss vs. Harvard. Medeiros registered 46 tackles in significant field action in 2018. Senior Jared Cutlip (Sterling Heights), who had six tackles last year, registered six total hits vs. Harvard.
Brown's Weekly Award
9/21 EJ Perry, QB STATS FCS National Offensive Player of the Week
Ivy League Offensive Player of the Week
Jack Grinold/E. Mass. Chapter of the NFF Gold Helmet Award
Jason Medeiros, LB Ivy League Honor Roll
9/27 Cooper DeVeau, DB Ivy League Honor Roll
Michael Hoechht, DT Ivy League Honor Roll
Allen Smith, RB Ivy League Honor Roll
Team Leaders: Defensive tackle Michael Hoecht '20 (Oakwood, OH) and offensive lineman Nick Allsop '20 (North Easton, MA) have been voted team captains. Hoecht is the third player in Brown history to captain the Bears for two seasons, joining Marcus Fuller'15.5 and Kyle Newhall-Caballero'12 as two-year captains.
Bears' Coaching Staff:Bears' head coach James Perry has put together a veteran and dynamic coaching staff to mentor the Brown football team: Offensive Coordinator: Vinny Marino(Connecticut '92);Defensive Coordinator:Tim Weaver(Davidson '90); Running Backs: Eric Bunker(Amherst '12); Defensive Line: Michael Donovan(Bentley '11); Outside Linebackers: Willie Edwards(Johnson & Wales '03); Offensive Line:Michael McCarthy(Widener '07); Quarterbacks:Seitu Smith(Harvard '15); Tight Ends & Recruiting Coordinator: Ryan Mattison(Boston College '03); Defensive Backs and Special Teams Coordinator:Darryl Jackson (San Diego '93); Offensive Quality Control:Heather Marini(Monash '14); Defensive Quality Control: Daniel Modelski(Illinois College '17); Director of Football Operations: Andrew Goodman(Penn State '12); Coordinator of Football Operations & Player Development: Paul Frisone(Western New England '93).
Bears In The NFL: Brown has two of its former players on NFL team rosters once again in 2019. Fullback James Develin '10, an engineering concentrator and defensive end at Brown, enters his seventh season with the New England Patriots. A Pro Bowl selection in 2017, Develin is the New England Patriots' starting fullback for four of the last five years, including the 2014, 2016 and 2018 Super Bowl Championship teams. Zak DeOssie '07 is a two-time Pro Bowl selection and two-time Super Bowl Champion (2007, 2011) for the New York Giants. Coming into the 2019 season, DeOssie is the 2nd-longest tenured Giants player, behind Eli Manning.
ESPN+ Broadcast Talent:Calling Brown's five home games on ESPN+ are former ESPN, ABC and NBC Sports broadcaster Allen Bestwick, who will call the play, and ABC6 Sports Anchor Nick Coit, who will provide the analysis.
The James Perry Coaches Show at Hope Street Pizza:For the latest on the Brown Football team, listen and watch the James Perry Coaches Show every Thursday evening, from 6:00 p.m. to 7:00 p.m., on WPRV-AM 790 and hosted by Scott Cordischi, the play-by-play voice of Brown football. Brown fans are invited to attend the show at Hope Street Pizza, listen live on WPRV-AM 790, and watch the show on Facebook Live. All of the James Perry Coaches Shows will be held at Hope Street Pizza, located at 720 Hope Street, on the East Side of Providence. Fans and supporters are invited to attend.
Listen To Brown Football:Brown's 10-game football schedule will be aired throughout Rhode Island and Southern New England on WPRV-AM 790 (Providence) and nationally with the Tune-in app. The Brown football broadcast team features Scott Cordischi calling the play-by-play, and John Anderson P'11 P'18 providing the color commentary.
Next Week:Brown continues its three-game home stand with a non-league matchup against Holy Cross on Saturday, October 12. Kick-off on ESPN+ is 12:30pm at Brown Stadium.