Brown Wins Record 20th Game in CBI Opener vs. UAB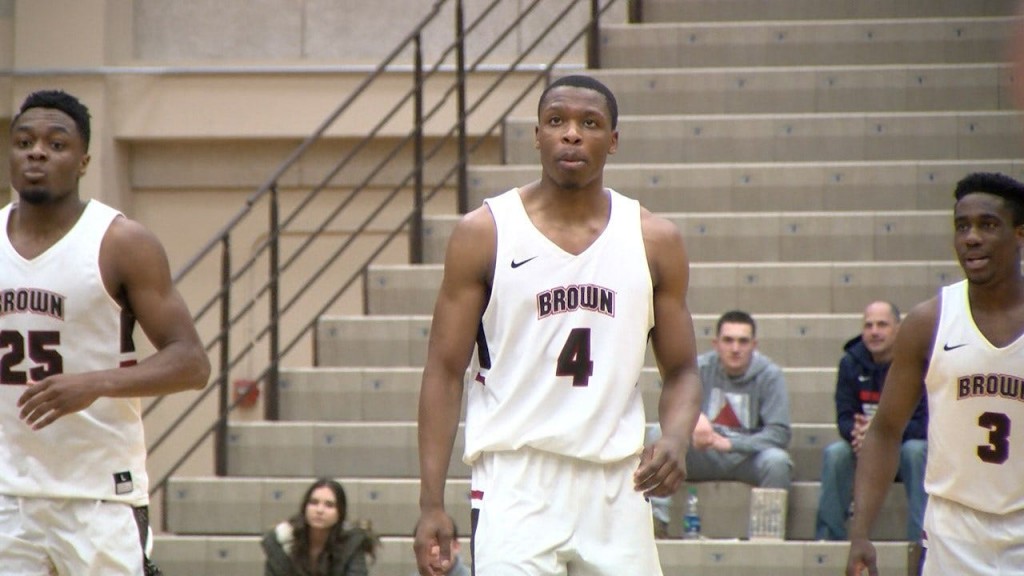 Brown senior guard Obi Okolie (Ajax, Ontario) scored a career high 26 points to lead the Bears to their first post-season tournament win ever, 83-78, over UAB in the first round of the Roman College Basketball Invitational (CBI) at the Pizzitola Sports Center.
The win lifts the Bears to a school-record 20 wins (20-11), while UAB completes its season with a 20-15 record.
The Bears will face the winner of tonight first round CBI matchup between Cal Baptist and Loyola Marymount on Monday, March 25 in California.
"This was a fun game to watch, especially in the second half when both teams made a lot of shots," said Brown head coach Mike Martin. "Our guys stepped up and made pressure shots when it counted. We talked about winning 20 games and now we have a chance to win a championship."
Brown never trailed in the game and led by as many as 13 points in the second half,49-36, with 14:42 remaining after two free throws by freshman David Mitchell (Roxbury, MA).
UAB fought back to tie the game, 64-64, with 5:27 remaining on a three-point play by Tyre Scott-Grayson.
The Bears took the lead for good on trey by Okolie with 5:52 left to play. UAB drew to within one point, 79-78, on a layup by Lewis Sullivan with seven seconds remaining, but layups by Brown senior Chris Sullivan (Wilmette, IL) and sophomore George Mawanda-Kalema (Burke, VA) in the final seconds put the game away for the Bears.
Okolie, the Ivy League's Defensive Player of the Year, connected on a career best seven treys (7-of-14), eighth best in the Brown record book, and 8-of-16 field goals overall. He now has 1,053 career points, 25thbest in Brown basketball history.
Junior Joshua Howard (Charlotte, NC) scored 15 points for the Bears, while junior Zach Hunsaker (North Salt Lake City, UT) added 12 points. Sullivan earned his first start of the season and responded with 11 points, playing a season high 31 minutes.
Bears' sophomore Tamenang Choh (Lowell, MA), just missed a triple-double with 10 points, 11 rebounds and eight assists. Both Okolie and Choh tied the Brown record for consecutive starts in a season with 31 games started.
The Blazers were led by Lewis Sullivan with 19 points and eight rebounds, and Scott-Grayson with 17 points and eight rebounds. Makhtar Gueye just missed a double-double for UAB with 12 points and nine rebounds.
Brown jumped all over UAB in the opening six minutes, opening up a 14-2 lead behind eight points by Okolie. A trey by Howard with 8:19 left in the half gave the Bears their biggest lead, 23-10.
The Blazers caught fire, outscoring the Bears, 24-14, for the remainder of the half to cut Brown's lead to 37-34 at intermission. Perry and Sullivan each scored 10 points for UAB in the half, while Okolie paced the Bears with 10 points.
The Bears opened the second half the same way they opened the game by out-scoring UAB, 10-0, to pull ahead, 47-34, following a Howard layup with 17:15 remaining.