Brown Women's Soccer Wins In Home Finale For Coach Phil Pincince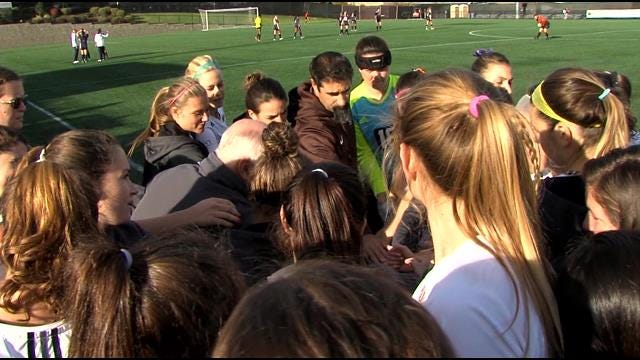 Brown University Press Release
PROVIDENCE, R.I. – Junior Carly Gould scored on a penalty kick in the 21st minute, and Brown University women's soccer beat Penn, 1-0, in the final home game for the Bears' Class of 2016 and 39-year head coach Phil Pincince at the newly renamed Stevenson/Pincince Field on Saturday afternoon.
The Bears (6-7-2, 2-3-1 Ivy) tallied their 323rd win under Pincince – who will retire from coaching at the end of the 2015 season after taking over the program in 1977 – with their victory over the visiting Quakers (6-4-5, 1-2-3 Ivy).
Building up to the match's scoring play, senior Erin Katz (Montgomery, Ala.) played a ball from the edge of the right side of the box over to classmate Michelle Jolson (Wyoming, Ohio) on the left side. Jolson brought the ball further into the penalty area and drew a foul. Gould (Hampton Falls, N.H.) stepped up and converted the ensuing penalty into the left side of the goal.
A 5-foot-11 midfielder, Gould tallied her team-leading sixth goal of the season and has now notched five goals in her last four games.
Freshman goalkeeper Christine Etzel (Madison, Conn.) made seven saves to record her fourth shutout of the season.
Brown's back four of sophomore center backs Maclaine Lehan (Shrewsbury, Mass.) and Sarah Cobb (North Tustin, Calif.), senior right back Hogan Vivier (Cumberland, R.I.) and freshman left back Megan Grant (Carlsbad, Calif.) helped the Bears tally their fifth clean sheet as a team this year.
Prior to the game, Brown honored the six members of its Class of 2016 – Charlotte Beach (New Haven, Conn.), Jillian DeSimone (Lincoln, R.I.), Jolson, Katz, captain Sarah Moody (Rancho Palos Verdes, Calif.), and Vivier.
Brown earned its first win over Penn since 2008 – a season that also saw the Bears earn a 1-0 win over No. 11 Penn State and a 0-0 draw with No. 1 UCLA over the same weekend (Sept. 12-14).
Next, Brown concludes its season at Yale on Saturday, Nov. 7 at 4 p.m.
Game Notes
Brown played its first game at the newly renamed Stevenson/Pincince Field, dedicated in recognition of head coach Phil Pincince's contributions to the game of women's soccer at the University and on a national basis over his 39-year career … At halftime, Brown honored its 1990 Ivy League women's soccer championship team on its 25th anniversary … The 1990 team's Ivy championship represented the Bears' ninth straight Ivy title (1982-90).