Brown's Leland King Ivy League Rookie of the Week for 2nd Straight Week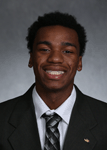 Brown news release…
rown's Leland King Named Ivy Rookie of the Week For Second Straight Week
Providence,
R.I. – Brown freshman forward Leland
King (Inglewood, CA) has been
named the Ivy Rookie of the Week for the second straight week and third time
this season for his sensational play in starting roles against Columbia and
Cornell.
King opened the
weekend by scoring 12 points and grabbing nine rebounds against Columbia. He hit
5-of-11 field goals and 2-of-4 treys against the Lions.
He exploded for
career highs of 23 points and 12 rebounds in Brown's win over Cornell on
national television Saturday evening, connecting on 9-of-18 field goals and
5-of-6 free throws, while also handing out a career high four assists.
King is
averaging 8.2 points and 4.9 rebounds per game for the Bears and has played in
all 24 games.