Bruins 2022-2023 Schedule Released, Brass Talks Wednesday Before NHL Draft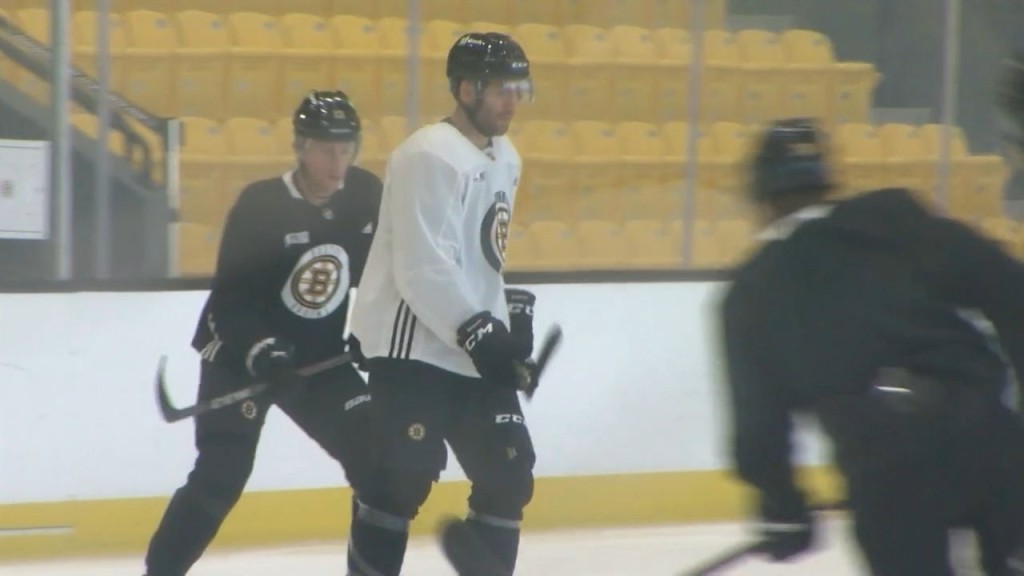 Boston Bruins Press Release
BOSTON – The National Hockey League announced today, July 6, the schedule for the Boston Bruins 2022-23 regular season, presented by Ticketmaster. The full schedule can be found below. Regional and national broadcast information will be released at a later date.
The Black & Gold will kick off the season on the road against the Washington Capitals on Wednesday, October 12. The Bruins home opener will take place at TD Garden on Saturday, October 15 against the Arizona Coyotes.
Other key games include the 2021-22 Presidents Trophy-winning Florida Panthers' first trip to TD Garden (10/17), the Bruins' first trip to Toronto to face the Maple Leafs (11/5), Tampa Bay's first trip to Boston (11/29), and a three-game road trip to play the Colorado Avalanche (12/7), Arizona Coyotes (12/9) and Vegas Golden Knights (12/11). The Bruins' longest homestand of the season takes place in December. During that period, the New York Islanders (12/13), Los Angeles Kings (12/15), Columbus Blue Jackets (12/17), Florida Panthers (12/19) and Winnipeg Jets (12/22) pay a visit to Boston.
To kick off the new year, the Bruins will play host to the Pittsburgh Penguins at Fenway Park in Boston on January 2 for the 2023 Discover NHL Winter Classic.
In late January and early February, the Bruins play five straight road games, tied for the longest stretch away from home on the season. During that period, the B's will visit the Montreal Canadiens (1/24), Tampa Bay Lightning (1/26), Florida Panthers (1/28), Carolina Hurricanes (1/29) and Toronto Maple Leafs (2/1).
The 2023 NHL All-Star Weekend will take place at FLA Live Arena in Sunrise, Florida from February 3-4.
Other key games after the break include the Bruins' first game back against the Washington Capitals (2/11) at TD Garden and the Seattle and Western Canada swing where the Bruins take on the Seattle Kraken (2/23), Vancouver Canucks (2/25), Edmonton Oilers (2/27) and Calgary Flames (2/28). The Bruins again play five straight road games in March, taking trips to play the Detroit Red Wings (3/12), Chicago Blackhawks (3/14), Winnipeg Jets (3/16), Minnesota Wild (3/18) and Buffalo Sabres (3/19).
The Boston Bruins also announced today that Individual Game Tickets for the 2022-23 season will go on sale to the public on Thursday, July 7 at 2 p.m. ET. Fans may learn more and purchase tickets by visiting BostonBruins.com/Tickets. The full season schedule can be found below.
BRUINS 2022-23 TICKET INFORMATION:
Prior to the public on-sale on Thursday, July 7 at 2 p.m. ET, Bruins Season Ticket Holders, Game Plan Holders and Season Ticket Waiting List Members will receive special presale access. Fans who would like to get first access to tickets are encouraged to sign up for the Boston Bruins Newsletter at BostonBruins.com/Newsletter. Tickets for all home games will go on sale to the general public at 2 p.m. ET.
For games played at TD Garden, tickets will range from $50.00 – $499.00. In addition to seat location, ticket prices will vary depending on opponent and date of game. Please note that ticket prices are subject to change and there is an eight-ticket limit per game.
Although full-season ticket packages are sold out, Bruins fans can join the Season Ticket Waiting List to score priority access for when full-season ticket packages become available. To join the Season Ticket Waiting List, fans can go to BostonBruins.com/SeasonTicketWaitingList. Additionally, a limited number of memberships are available in the Boston Garden Society at the TD Garden, including Rafters, TD Garden's newest membership offering. Fans interested in Rafters can contact Rafters@tdgarden.com. Fans interested in the Boston Garden Society can contact BostonGardenSociety@tdgarden.com.
The Boston Bruins use only mobile ticketing, which requires fans to use their mobile device to enter the TD Garden. Mobile tickets can be accessed via the TD Garden or Boston Bruins mobile app.
Single game suite rentals and Rafters studios accommodate 18-200 fans.  For more information email vipticketing@tdgarden.com.
BOSTON BRUINS 2022-23 REGULAR SEASON SCHEDULE:
*Broadcast information will be announced by the NHL at a later date
**All times local to where the game is being played
OCTOBER:
Wednesday, October 12 @ Washington, 7 pm
Saturday, October 15 vs. Arizona, 7 pm
Monday, October 17 vs. Florida, 7 pm
Tuesday, October 18 @ Ottawa, 7 pm
Thursday, October 20 vs.  Anaheim, 7 pm
Saturday, October 22 vs. Minnesota, 1 pm
Tuesday, October 25 vs. Dallas, 7 pm
Thursday, October 27 vs. Detroit, 7 pm
Friday, October 28 @ Columbus, 7 pm
NOVEMBER:
Tuesday, November 1 @ Pittsburgh, 7 pm
Thursday, November 3 @ N.Y. Rangers, 7 pm
Saturday, November 5 @ Toronto, 7 pm
Monday, November 7 vs. St. Louis, 7 pm
Thursday, November 10 vs. Calgary, 7 pm
Saturday, November 12 @ Buffalo, 7 pm
Sunday, November 13 vs. Vancouver, 6 pm
Thursday, November 17 vs. Philadelphia, 7 pm
Saturday, November 19 vs. Chicago, 7 pm
Monday, November 21 @ Tampa Bay, 7 pm
Wednesday, November 23 @ Florida, 7 pm
Friday, November 25 vs. Carolina, 1 pm
Tuesday, November 29 vs. Tampa Bay, 7 pm
DECEMBER:
Saturday, December 3 vs. Colorado, 7 pm
Monday, December 5 vs. Vegas, 7 pm
Wednesday, December 7 @ Colorado, 7 pm
Friday, December 9 @ Arizona, 7:30 pm
Sunday, December 11 @ Vegas, 5 pm
Tuesday, December 13 vs. N.Y. Islanders, 7 pm
Thursday, December 15 vs. Los Angeles, 7 pm
Saturday, December 17 vs. Columbus, 1 pm
Monday, December 19 vs. Florida, 7 pm
Thursday, December 22 vs. Winnipeg, 7 pm
Friday, December 23 @ New Jersey, 7 pm
Tuesday, December 27 @ Ottawa, 7 pm
Wednesday, December 28 @ New Jersey, 7 pm
Saturday, December 31 vs. Buffalo, 1 pm
JANUARY:
Monday, January 2 vs. Pittsburgh, 2 pm
Thursday, January 5 @ Los Angeles, 7:30 pm
Saturday, January 7 @ San Jose, 7:30 pm
Monday, January 8 @ Anaheim, 5:30 pm
Thursday, January 12 vs. Seattle, 7 pm
Saturday, January 14 vs. Toronto, 7 pm
Monday, January 16 vs. Philadelphia, 1 pm
Wednesday, January 18 @ N.Y. Islanders, 7:30 pm
Thursday, January 19 @ N.Y. Rangers, 7 pm
Sunday, January 22 vs. San Jose, 7 pm
Tuesday, January 24 @ Montreal, 7 pm
Thursday, January 26 @ Tampa Bay, 7 pm
Saturday, January 28 @ Florida, 6 pm
Sunday, January 29 @ Carolina, 5 pm
FEBRUARY:
Wednesday, February 1 @ Toronto, 7:30 pm
Saturday, February 11 vs. Washington, 3 pm
Tuesday, February 14 @ Dallas, 7:30 pm
Thursday, February 16 @ Nashville, 7 pm
Saturday, February 18 vs. N.Y. Islanders, 5 pm
Monday, February 20 vs. Ottawa, 1 pm
Thursday, February 23 @ Seattle, 7 pm
Saturday, February 25 @ Vancouver, 4 pm
Monday, February 27 @ Edmonton, 6:30 pm
Tuesday, February 28 @ Calgary, 7 pm
MARCH:
Thursday, March 2 vs. Buffalo, 7 pm
Saturday, March 4 vs. N.Y. Rangers, 3 pm
Thursday, March 9 vs. Edmonton, 7 pm
Saturday, March 11 vs. Detroit, 1 pm
Sunday, March 12 @ Detroit, 1 pm
Tuesday, March 14 @ Chicago, 7:30 pm
Thursday, March 16. @ Winnipeg, 7 pm
Saturday, March 18 @ Minnesota, 1 pm
Sunday, March 19 @ Buffalo, 1 pm
Tuesday, March 21 vs. Ottawa, 7 pm
Thursday, March 23 vs. Montreal, 7 pm
Saturday, March 25 vs. Tampa Bay, 1 pm
Sunday, March 26 @ Carolina, 5 pm
Tuesday, March 28 vs. Nashville, 7 pm
Thursday, March 30 vs. Columbus, 7 pm
APRIL:
Saturday, April 1 @ Pittsburgh, 3 pm
Sunday, April 2 @ St. Louis, 2:30 pm
Thursday, April 6 vs. Toronto, 7 pm
Saturday, April 8 vs. New Jersey, 7 pm
Sunday, April 9 @ Philadelphia, 6 pm
Tuesday, April 11 vs. Washington, 7 pm
Thursday, April 13 @ Montreal, 7 pm