Bruins Knock Off Oilers For Third Straight Win Thursday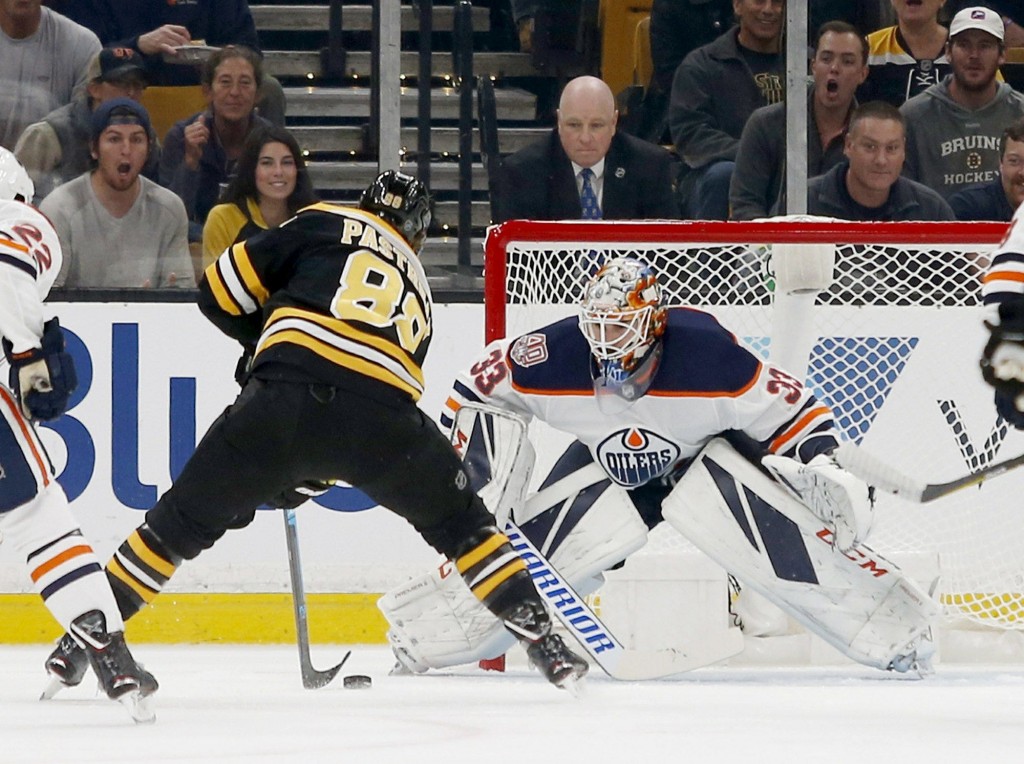 By DOUG ALDEN
Associated Press
BOSTON (AP) – Brad Marchand and Joakim Nordstrom scored in a 36-second span in the first period and Jaroslav Halak stopped 25 shots to help the Boston Bruins beat the Edmonton Oilers 4-1 on Thursday night.
David Pastrnak had his fourth goal of the season, and Patrice Bergeron added an empty-netter in the final minute. Connor McDavid scored his first goal of the season for the Oilers, and Cam Talbot had 28 saves.
The Oilers were playing only their second game of the season after falling 5-2 to New Jersey on Saturday in Sweden.
Edmonton struck first when McDavid got in alone on Halak and beat him 3:43 into the game.
Pastrnak tied it on a power-play goal at 9:20, and Marchand gave Boston its first lead at 14:37 on another power play off a centering pass from Matt Grzelcyk. Nordstrom scored again for Boston 36 seconds later on a give-and-go with David Krejci.
Edmonton just missed on two opportunities in the third. Boston captain Zdeno Chara poked the puck away as it slid along the goal line behind Halak as Edmonton's Ty Rattie raised his arms, thinking Edmonton scored. Play continued and replays showed the puck didn't cross.
The Oilers were short-handed a few minutes later when Tobias Rieder got a breakaway on Halak, who stretched out for a save with his left pad to preserve the two-goal lead.
Notes: The teams will again next Thursday night in Edmonton. … Bergeron had a goal and an assist, and Grzelcyk had two assists. … Halak made his first home start as a member of the Bruins. … Pastrnak has 98 career goals. … The game was stopped for a few minutes late in the second period when a hit knocked the glass loose behind the Edmonton net.
UP NEXT:
Oilers: At the New York Rangers on Saturday night.
Bruins: Host Detroit on Saturday.
___
More AP NHL: https://apnews.com/tag/NHL and https://twitter.com/AP_Sports
AP-WF-10-12-18 0303GMT