Bruins Legend Milt Schmidt Passes Away at Age 98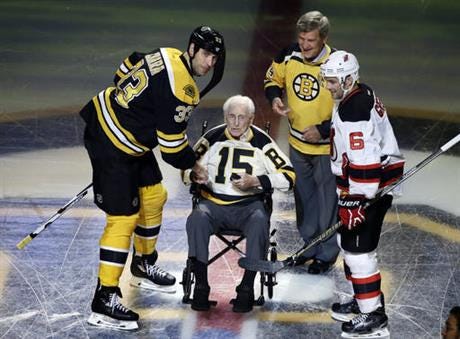 BOSTON (AP) — Milt Schmidt, the hockey hall of famer who led Boston to two Stanley Cup championships as the center of the "Kraut Line," served Canada in World War II and returned to the NHL to win its MVP award and two more titles as the Bruins general manager, died on Wednesday, the team said.
He was 98.
Schmidt had been the oldest living NHL player. He was the only person in Bruins franchise history to serve as on-ice captain, coach and general manager.
"It would be a challenge to find anyone who took greater pride in being a Boston Bruin than Milt Schmidt did — be it as a player, an executive or an ambassador over the 80-plus years he served the franchise, the city of Boston and the National Hockey League," commissioner Gary Bettman said in a statement. "Milt was a landmark presence in Boston's sports landscape. The NHL family cherishes his contribution to our history."
Schmidt's Boston teams won the Stanley Cup in 1939 and in '41. When he enlisted in the Royal Canadian Air Force two months after the Pearl Harbor attack along with "Kraut Line" mates Woody Dumart and Bobby Bauer, they were carried off the ice on the shoulders of the archrival Montreal Canadiens.
"When they grabbed Bobby, Woody and myself, we felt like saying, 'What are they doing?' Well we found out in a hurry that they all grabbed us and carried us off the ice," Schmidt said before a 2016 ceremony to mark the 80th anniversary of his NHL debut.
"That goes to show you that you have friends — although you are bitter enemies, you had friends in the National Hockey League," he said. "Not necessarily on the ice, but off the ice."
A native of Kitchener, Ontario, who was born on March 5, 1918, Milton Conrad Schmidt played with Bauer and Dumart in the junior leagues before they were reunited as the "Kraut Line" in the NHL for the 1936-37 season. With the three players of German heritage, the Bruins won two NHL championships, and in 1940 the linemates finished as the top three scorers in the league — the only time in NHL history players from the same team finished 1-2-3 in scoring.
During the war against Germany, Schmidt considered changing his name — to Smith — but decided against it. (The Bruins held a contest that came up with the suggested "Buddy Line," but it didn't stick.)
Schmidt missed three full seasons for World War II but returned to score career highs of 27 goals and 62 points in the 1946-47 season. He won the 1951 Hart Memorial Trophy as the league's most valuable player after totaling 61 points in 62 games.
Schmidt played four more seasons before retiring at the age of 36 with 229 goals, 346 assists and 466 penalty minutes to his credit. He also scored 25 goals and assisted 48 more in 86 playoff games.
Taking over as coach in 1955, Schmidt's teams reached the Stanley Cup finals in 1957 and '58. But he had left the bench and taken over as general manager when the young phenom Bobby Orr made his debut in 1966.
At the trade deadline that season, Schmidt orchestrated the deal that brought Phil Esposito, Ken Hodge and Fred Stanfield to Boston from the Chicago Blackhawks. With the future hall of famers Orr and Esposito, the Bruins went on to win the Stanley Cup in 1970 and again two years later.
Schmidt was inducted into the Hockey Hall of Fame in 1961. The Bruins retired his No. 15 in 1980.
"When you think about the Bruins, you think about Milt Schmidt," forward Patrice Bergeron said on Wednesday. "He lived an amazing life and I am very proud to have known him."
At the age of 98, he was back in the new Boston Garden on opening night of the 2016-17 season, when the team celebrated the 80th anniversary of his first game and the 50th anniversary of Orr's debut.
Before the game, the two argued playfully over who was the franchise's biggest gem.
"I would go with you, Milty, being the greatest Bruin ever," Orr said.
"He's got to say that because I'm sitting right beside him," Schmidt replied.
"He wasn't very big, but his heart was this big on the ice," Orr said, spreading his hands wide. "And that's how he played. He was great player and he's a wonderful individual. He's a great man and a great friend to all of us.
After pushing Schmidt to center ice for a ceremonial puck drop, Orr helped Schmidt raise his hand to acknowledge the cheering crowd. They were joined there by Bruins captain Zdeno Chara, and other players skated over to pay their respects.
"It's very special for me, being here my whole career, and having the chance to see them once in a while," Bergeron said then. "Realizing how much they mean to the Bruins — but also to hockey, and to Boston, it's very special to me to have a chance to take a few seconds to go shake their hands."
Schmidt's coaching record during two stints on the Bruins bench was 245-360-121 in 726 games.
He was also the first general manager of the expansion Washington Capitals, who in 1974-75 set the NHL's record for futility by going 8-67-5. Schmidt took over as coach late in the 1974-75 season, posting a 5-34-5 record, including an 0-22-3 stretch that spanned 57 days and cost him both jobs.
"Milt's impact in Boston, as both a player and a coach, will forever be felt amongst hockey fans," Bruins owner Jeremy Jacobs said. "He was a legendary personality in the Bruins organization and goes down in history as the ultimate Bruin. We should all be envious of the longevity and meaningfulness of his life."
Schmidt is survived by a son, Conrad, and daughter, Nancy.