Bruins Season Ends When Senators Score in Overtime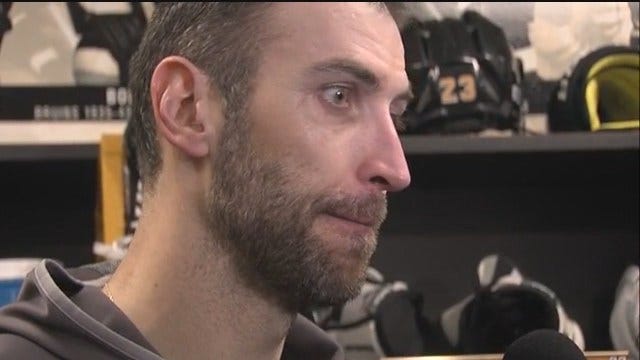 BOSTON — *AP) Clarke MacArthur scored a power-play goal 6:30 into overtime and the Ottawa Senators beat the Boston Bruins 3-2 on Sunday to win their first-round playoff series in six games.
Craig Anderson stopped 28 shots for Ottawa, which advanced in the postseason for the first time since 2013. The Senators will play the New York Rangers in the second round.
Tuukka Rask made 26 saves for the Bruins, and Boston got goals from Drew Stafford and Patrice Bergeron.
Bobby Ryan and Kyle Turris scored for Ottawa five minutes apart in the second to give the Senators a 2-1 lead. But Bergeron tied it early in the third to force overtime for the fourth time in the series. It was also the 17th overtime game of the playoffs, tying the NHL record for an opening round set in 2013.
Six minutes in, Bruins forward David Pastrnak was sent off for pulling MacArthur down from behind as he entered the Boston zone. MacArthur, who had missed 156 straight regular-season games after sustaining a concussion on Oct. 14, 2015, ended it 36 seconds later.
The Bruins made the playoffs for the first time in three seasons, rallying after firing the winningest coach in franchise history and the one that led them to the 2011 Stanley Cup title in 2011. They went 18-8 after Bruce Cassidy replaced Claude Julien, but lost their last two to finish third — behind Ottawa — in the Atlantic Division.
That left them matched up with the Senators in the first round — a bad draw against a team that beat them all four times in the regular season and six straight overall. After winning Game 1, Boston lost three in a row before forcing a fifth game with a double-overtime victory on Friday night.
The Bruins were hit with three delay of game penalties in the first period for sending the puck over the glass, but on none of those power plays did Ottawa even manage as much as a shot on goal. Instead, the Bruins took a 1-0 lead with just under two minutes left in the first when Stafford converted on a tripping penalty against Mark Stone.
But Ryan tied it for Ottawa on a power play early in the second, then Turris gave the Senators a 2-1 lead about five minutes later. It stayed that way until Patrice Bergeron tied it about two minutes into the third period.
Game notes
The Bruins were without F David Krejci, who injured his knee in a collision with Senators D Chris Wideman in Game 5 on Friday. … Ryan leads Ottawa with four goals in the playoffs. He also assisted on the game-winner.