Bruins Sign Rask to Eight Year Deal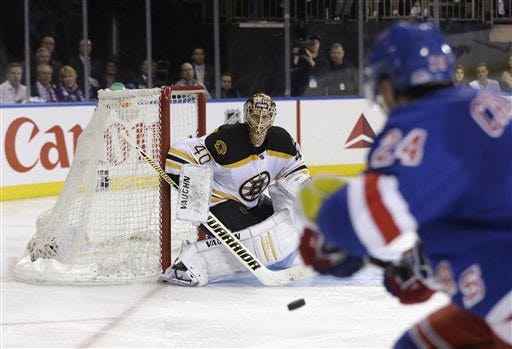 Boston Bruins press release…
Boston, MA – Boston Bruins General Manager Peter Chiarelli announced today, July 10, that the club has signed goaltender Tuukka Rask to an eight-year contract through the 2020-21 season. Rask's salary is worth an annual cap figure of $7,000,000.
Rask and Chiarelli will be available to media via conference call on Thursday, July 11 at 3:00 p.m. ET.
In 36 regular season games in 2013, Rask compiled a 19-10-5 record with a GAA of 2.00 and a .929 save percentage with five shutouts. The B's netminder finished the season tied for fourth in the NHL in wins (19), tied for first in shutouts (five), third in save percentage (.929) and tied for fourth in goals against (1.96). During the 2013 postseason, Rask led the NHL in save percentage (.940), tied for first in shutouts (three) and finished fourth in GAA (1.88) in 22 games. Rask set a club record for home playoff shutout streak at 193:16, spanning from game four of the Conference Final to game three of the Cup Final.
In 2011-12, Rask appeared in 23 games, recording an 11-8-3 record with a 2.05 GAA and a save percentage of .929. In 2009-10, Rask set a career high in wins (22) and led the NHL with a 1.97 GAA and .931 save percentage, becoming the first Bruins goaltender to have a GAA below 2.00 since 1998-99. His 1.97 GAA that season, was the lowest by any Bruins goaltender since 1938-39 season.
In 138 NHL games, all of which have come with the Bruins, Rask has compiled a 66-45-16 record with 16 shutouts, a .927 save percentage and a 2.15 goals against average. The 26-year-old has appeared in 35 postseason games for the Bruins, amassing a 21-14 record, while posting a 2.15 GAA and a .930 save percentage with three shutouts.
Prior to joining Boston, Rask spent the majority of two seasons with the Providence Bruins (AHL) from 2007 – 2009, amassing a record of 60-33-6 with a 2.42 GAA and .910 save percentage. In his rookie season with Providence in 2007-08, Rask finished the season tied for fifth in wins (27) and the following year was tied for second (33).
The 6'3'', 185-pound native of Tampere, Finland was drafted in the first round (21st overall) of the 2005 NHL Entry Draft by the Toronto Maple Leafs. The Bruins acquired Rask from the Maple Leafs in exchange for Andrew Raycroft on June, 24 2006.