Brush fire in Lynn continues burning through third day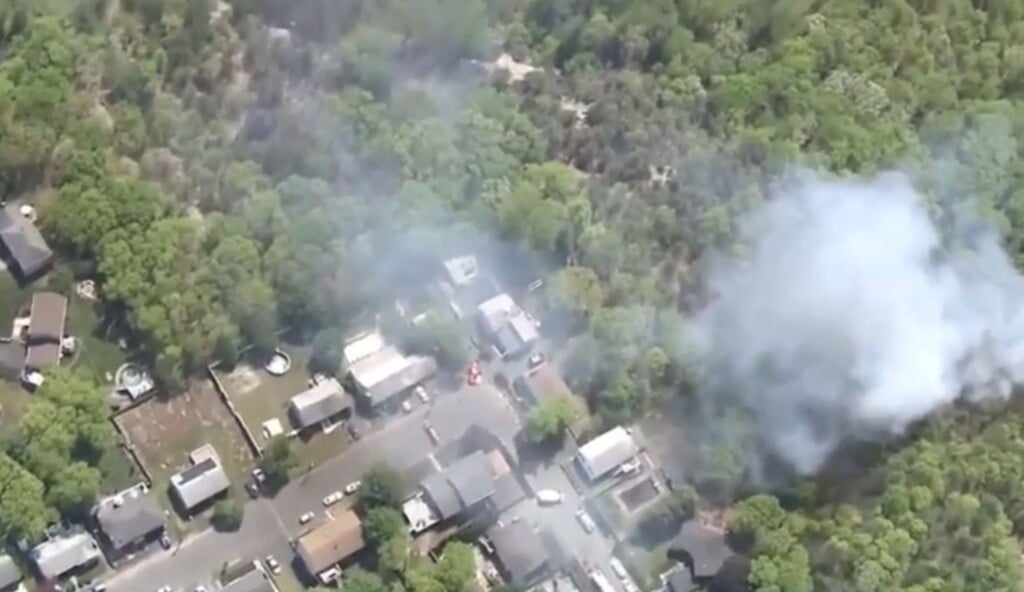 LYNN, Mass. — Firefighters are still working to extinguish a large brush fire that started Friday afternoon inside part of the Lynn Woods Reservation in Massachusetts, WCVB Channel 5 reports.
Lynn fire Chief Dan Sullivan told NewsCenter 5 on Sunday that it appears the fire has since separated into three areas, and that he expects the fire will continue to burn for a few more days or until it rains.
Video from WCVB Channel 5 showed the flames coming close to homes and a neighborhood adjacent to the woods on Friday.
On Saturday, the Lynn Fire Department said many large trees were burning and smoldering along a steep, rocky terrain between Ox Pasture Road and areas of the woods bordering the residential neighborhoods on Emerald Drive, Cherry Tree Lane, Peach Tree Lane and South Ridge Circle.
"Engine Co. 10 spent the majority of the night on scene along Ellen Rd. making sure the fire did not flare up near any properties. The fire is primarily contained for now and is not threatening any property at this time," the fire department wrote on social media Saturday morning.
Sullivan said Sunday that the fire started heading toward a few homes on Saturday, but that crews were able to get in position to protect those residents.
Lynn firefighters will continue to work with Department of Conservation and Recreation state forestry units to put the fire out.
On Friday, fire officials at the scene said that 20 homes were threatened at the height of the fire, with flames coming within 20 feet of homes.
Neighbors grabbed garden hoses and sprayed down the flames as the encroached on their homes adjacent to the Lynn Woods.
"By the time I got back here, it was right on my tail," neighbor Philip Theriault said.
The fire burned right up to Theriault's backyard, gusty winds pushing the flames.
"It was probably about 15 to 20 miles per hour, which fueled the fire, which made it come really fast toward the houses. It got scary," Theriault said.
Robert Lemieux said this wasn't the first fire he's seen at the Lynn Woods, but added that it was unique.
"This is the first time it got this close, being right here in the yard," Lemieux said. "It was a little bit scary."
The city asked people to stay away from the area due to the multiple hose lines throughout the streets, which made them congested.
"Unless you see flames near your property, please do not call 911 reporting odors of smoke, as it has blanked the area," the city said.