Brutal Home Invasion in Central Falls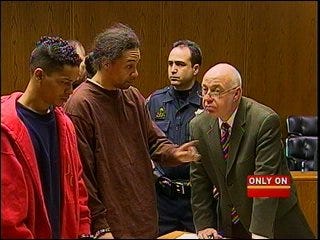 A man is recovering this evening after being badly beaten during a home invasion in Central Falls.
Four suspects burst into the first-floor apartment at 44 Perry Street at about 11:15pm Monday, duct-taped a man and beat him with a revolver. His son, who had been sleeping in another room in the apartment, was woken up by the attack and managed to slip out his bedroom window and go for help.
When Central Falls Police officers arrived, they found two of the suspects trying to flee and immediately arrested them. The other two were still inside the apartment and were arrested as well.
The victim was treated for his injuries and released from the hospital.
The suspects are 25 year-old Eric Pagan, 34 year-old Javier Santana, 30 year-old Marisely Alaya and 33 year-old Angel Vendrell. All are being held on bail tonight.
ABC6 Reporter Malini Basu has the story.