Bryant Baseball Holds On To First Place In NEC With Doubleheader Sweep Of Fairleigh Dickinson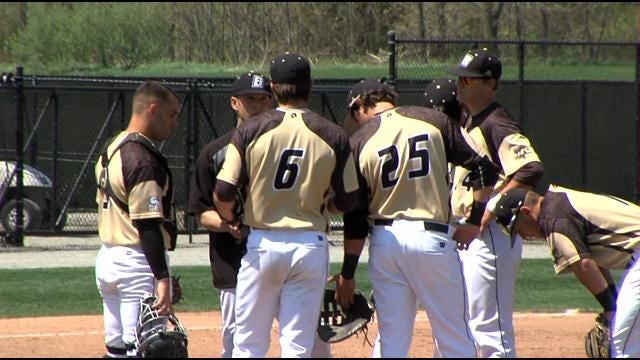 Bryant University Press Release
SMITHFIELD, R.I. – Senior John Mullen (Walpole, Mass.) once again proved why he is one of the most clutch hitters in Bryant baseball history as he clubbed a walk-off two-run double to lift the Bulldogs to a 6-5 victory and a doubleheader sweep of Fairleigh Dickinson on Saturday afternoon at Conaty Park.
The Bulldogs' (23-20, 14-5 NEC) second walk-off win in as many days keeps them in sole possession of first place in the NEC standings, a game ahead of Wagner. Bryant has now won 12-straight games against the Knights (17-22, 8-11) dating back to 2012.
Trailing 5-4 in the bottom of the seventh, junior Robby Rinn (Warwick, R.I.) got things started as he sprayed a ball into left center and dove headfirst into second with a leadoff double. Sophomore Cole Fabio (Mahwah, N.J.) followed with a walk and both advanced into scoring position on a wild pitch. The Knights then chose to intentionally walk sophomore Joseph Paparelli (Preston, Conn.) to load the bases and get to Mullen. The veteran then wrote another chapter in his storied career by lacing an 0-1 pitch over the left fielders head to score the winning runs and set off a celebration on the middle of the infield.
Saturday's second game was a back-and-forth affair throughout and featured five runs scored in the first inning. FDU once again broke the ice, scoring twice in its first at-bat. Matt McCann drew a leadoff walk and came around to score on a two-out single from Patrick McClure. Joel Roman followed with a double to right-center to score McClure and make it 2-0.
Bryant quickly responded with three runs of its own in the bottom of the first. Sophomore Brandon Bingel (Peabody, Mass.) singled up the middle with one out, went to third on a single from Rinn and then scored on a Fabio double. Mullen put the Bulldogs on top as he knocked a two-out, two-run single up the middle to make it 3-2.
The Black and Gold extended their lead in the second with a two-out rally. Senior Jordan Mountford (Guelph, Ont.) doubled to left center with two outs and Bingel followed with a single to center to score him and make it 4-2.
FDU battled back, however, to take the lead with single runs in the fifth, sixth and seventh innings. In the fifth, two walks and a single loaded the bases with one out for the Knights. Senior reliever Trevor Lacosse (Watervliet, N.Y.) induced an infield popup for the second out but Roman was able to coax a walk on a 3-2 pitch to bring in a run.
The Knights eventually tied the game in the sixth as John Giakas led off the inning with a line drive home run down the left field line. It was his first home run of the year.
FDU then appeared to score the decisive run in the top of the seventh. A single and two walks once again loaded the bases with one out for the Knights. Bryant called on junior James Davitt (Wallingford, Conn.) and the junior induced a ground ball to second but the Bulldogs couldn't turn two, allowing the lead run to score.
Freshman Ross Weiner (Woodbridge, Conn.) made his first career start and allowed three runs on four hits, walked two and struck out four over four innings. Lacosse allowed two runs, walked four and struck out two over 2.1 innings. Davitt retired two batters and earned his second win of the weekend as the Bulldogs rallied to win the game.
Fabio finished the day 3-for-3 with an RBI and two runs scored, while Mullen matched his career high with four RBI. Rinn (2-4, 2R) and Bingel (2-4) each chipped in two hits on the day. Rinn went 5-for-8 with three doubles, a home run, six RBI and five runs scored in the two games, Fabio was a perfect 6-for-6 with two doubles, a triple, home run, three RBI and five runs scored and Bingel was 4-for-7 with two doubles, two RBI and four runs scored.
The Bulldogs and Knights complete their weekend series on Sunday with a first pitch scheduled for 1:00 p.m. Bryant will honor its seven-member senior class prior to the game.