Bryant Baseball Scores Five Runs In Sixth Inning To Beat Central Connecticut Sunday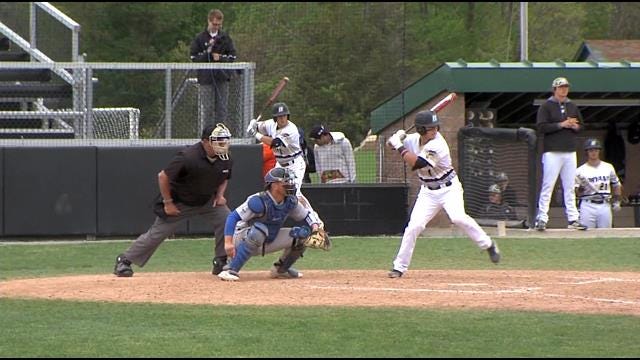 Bryant University Press Release
SMITHFIELD, R.I. – The No. 18 Bryant University baseball team used a five-run sixth inning to break a tie and earn a 9-3 victory over Central Connecticut on Sunday afternoon at Conaty Park.
With the win, the Bulldogs (39-10, 22-4 NEC) win the weekend series 3-1 and finish the season with a 7-1 record against the Blue Devils (20-30, 12-16) this season. Bryant wraps up its home schedule with a 14-3 record at Conaty Park.
Tied 1-1 in the sixth, the Bulldogs sent 10 batters to the plate and scored five runs on four hits. Sophomore Malik Daley (Northborough, Mass.) opened the frame with a sharp single to left, senior Zach Wood (Griswold, Conn.) reached on an error and classmate Buck McCarthy (Saugus, Mass.) singled to load the bases with no outs. Senior AJ Zarozny (Shrewsbury, Mass.) brought home the first run of the inning with an infield single to deep short and junior Cole Fabio (Mahwah, N.J.) followed with a three-run double that landed just inside the left field line. A CCSU throwing error plated the final run of the inning and gave Bryant 6-1 lead.
The Bulldogs added two more runs in the seventh and one more in the eighth. In the seventh, Wood singled, McCarthy was hit by a pitch and senior Dan Cellucci (Sudbury, Mass.) slashed a single to right center to score a run. Fabio plated the second run of the inning with a sac fly to center.
In the eighth, three-straight two-out hits from McCarthy, Cellucci and Zarozny plated the final run of the game. McCarthy and Cellucci both singled and Zarozny doubled to left to score a run.
Bryant grabbed a 1-0 lead in the third. Zarozny was hit by a pitch, stole second, advanced to third on a single and scored on a sac fly from junior Brandon Bingel (Peabody, Mass.).
CCSU tied the game in the fifth with a two-out single. Nick Landell reached on an error and Nick Garland's ground ball ricocheted off of the glove of Bryant starting pitcher James Davitt (Wallingford, Conn.) for an infield single. Dean Lockery followed with a single to center to tie the game.
Davitt improved to 6-2 on the year with a career-high 7 1/3 innings. He allowed three runs (two earned) on seven hits, walked one and struck out one. Davitt scattered the seven hits and departed after CCSU's Andrew Hinckley hit a fly ball to right center that caught the jet stream and carried over the wall. Sophomore Logan Lessard (Cromwell, Conn.) and senior Michael Marshall (Maynard, Mass.) combined to record the final five outs, posting four strikeouts.
Freshman Nick Angelini (Bedford, N.H.) (2-4), Wood (2-5, 2R), McCarthy (2-4, 3R), Cellucci (2-5, RBI) and Zarozny (2-3, 2RBI, 2R) all finished with two hits. Fabio drove in four runs.
Mike Appel fell to 1-4 on the year after allowing five runs (three earned) on five hits over three innings of relief. Garland had two hits to lead the Blue Devils.
Bryant travels to Lowell, Mass., to take on UMass Lowell in the final non-conference game of the year. First pitch is scheduled for 7:00 p.m.