Bryant Basketball Coach Tim O'Shea Announces Retirement with Emotinal Speech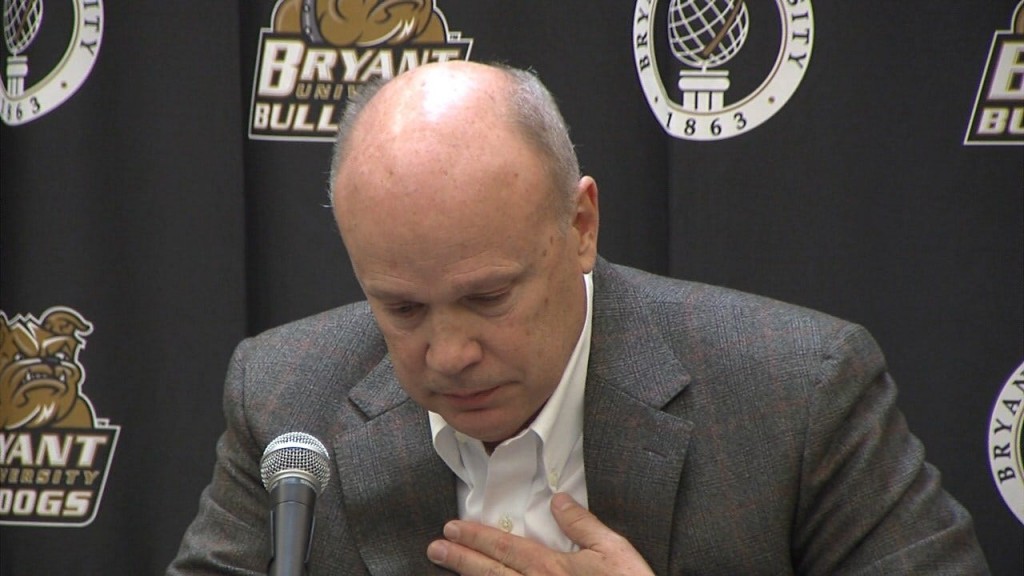 Bryant University men's basketball coach Tim O'Shea announced that he will retire at the end of the current 2017-18 basketball season. A formal announcement was made by coach O'Shea on Monday afternoon at a press conference in the Chace Athletic Center Bulldog Room.
O'Shea, currently in his tenth year, was named the head coach of the Bryant men's basketball program in April 2008, arriving from Ohio University where he spent seven seasons as head coach.
"We are so grateful for the leadership Coach O'Shea has provided for our men's basketball program," said Director of Athletics Bill Smith. "From the moment he stepped foot on campus, he had a clear vision for what it would take for our basketball program to be successful competing at the Division I level. In the six years we have been eligible for Division I, Coach O'Shea led us to four NEC Tournament appearances, including three top-four finishes. On behalf of our entire athletic department, I want to thank Coach O'Shea for his commitment to leading the basketball program into the Division I era and wish him the very best in his retirement."
Through his first nine seasons in Smithfield, O'Shea turned the Bulldogs into a premier program in the Northeast, taking Bryant to three-straight NEC Tournaments from 2012-15, as well as a national postseason appearance in the College Basketball Invitational (CBI). Since his arrival on campus, O'Shea has turned the program around, leading the Bulldogs to key victories over such programs as Boston College, Lehigh, Denver, Robert Morris and LIU Brooklyn.
Picked 10th in the NEC Preseason Coaches' poll in 2012-13, O'Shea's Bulldogs served notice to its conference foes with breakthrough non-league wins over Boston College and Lehigh on the road. The Black and Gold would finish with a 19-12 overall record and in a tie for second place in the NEC standings with a 12-6 league mark. Bryant spent seven weeks ranked in the Mid-Major Top 25 poll and would earn a berth in the CBI tournament in the program's first year of postseason eligibility. The Bulldogs also posted the best turnaround in the country that season.
In 2013-14, O'Shea led the Bulldogs to their second-consecutive trip to the postseason, finishing the regular season with an 18-14 overall mark and a third-place finish in the Northeast Conference standings. Under O'Shea's leadership, Bryant won double-digit games in back-to-back seasons for the first time in Division I history, with a 37-26 (.587) overall mark since the 2012-13 season.

In 2014-15, O'Shea led the Bulldogs not just to their third-straight NEC Tournament berth, but to the program's first postseason win at the Division I level with a double-overtime 91-85 victory over Sacred Heart in the NEC Quarterfinals. The Bulldogs finished tied for second in the regular-season standings and saw three players named all-conference selections.
"I want to thank coach O'Shea for the incredible job of not only guiding our men's basketball team through a difficult transition to Division I but to lead Bryant to three straight Northeast Conference Tournament appearances," said President Ron Machtley.
"He recruited high-quality student-athletes to Bryant who presented our institution in a first-class manner and helped build Bryant basketball into a competitive program in the NEC. The entire Bryant community wishes coach O'Shea all the best in the future."
Bryant, 3-24 overall and 2-12 in the NEC entering this Thursday's game at Robert Morris, will wrap up the regular season on Feb. 24 at Fairleigh Dickinson.
A national search will begin immediately.