Bryant Beats Hobart, Advances To Saturday's NEC Men's Lacrosse Championship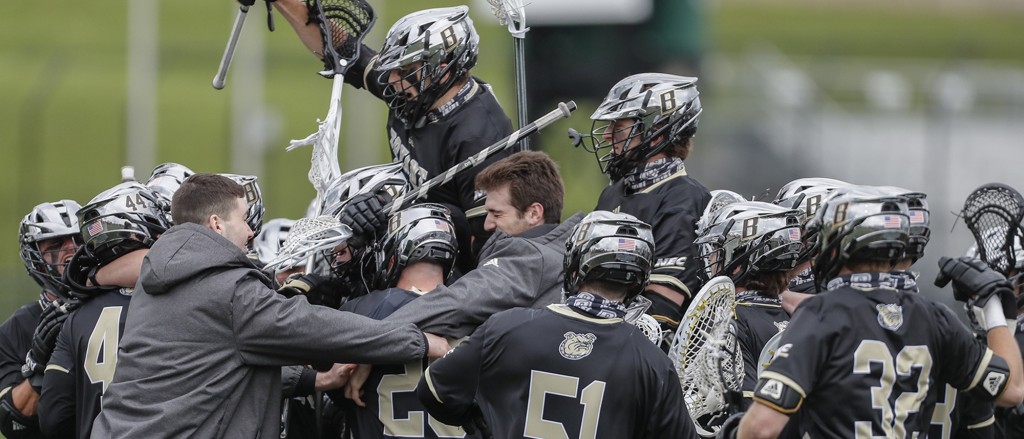 (Photo courtesy: Bryant Athletics)
Bryant University Press Release
GENEVA, N.Y. – Freshmen Bennett Abladian and Aidan Goltz combined to score eight goals and Luke Caracciolo made 17 saves as the third-seeded Bryant University men's lacrosse team defeated second-seeded Hobart College, 14-12, in Wednesday's Northeast Conference Semifinal at Urick Stadium.
With the victory, the Bulldogs will face top-seeded Saint Joseph's in the NEC Championship Saturday afternoon in Philadelphia. Faceoff is set for 1:00 p.m.
On Wednesday, the Bulldogs built a 5-3 halftime lead thanks to Marc O'Rourke's magical finish to end the first quarter and Caracciolo's 12 first-half saves. Bryant then held off a comeback attempt from Hobart, with Abladian and Goltz combining to score all five of Bryant's goals in the fourth quarter.
Bryant is now 11-3 all-time in the NEC Tournament and will now play in its sixth championship game, having won NEC titles in 2012, 2013, 2014, 2015 and 2017.
Game Information
Bryant 14, Hobart 12
Records: Bryant (8-3), Hobart (6-3)
Location: Urick Stadium (Geneva, N.Y.)
Coach Pressler's Comments
"I could not be more excited, more happy, more proud of our team's effort and performance on the road against an outstanding Hobart squad. I don't think we were very pretty today, but thought we played awful tough. It again became another one-goal battle late in the fourth just like a month ago but this time we made the plays down the stretch. Luke's play in the goal, especially in the first half, gave us great momentum. What do you say when two true freshmen, No. 14 and No. 34, score eight of your 14 goals…just incredible. Looking forward to enjoying this win during our five hour bus ride home. Then on to Philly to play the best team in the NEC, Saint Joseph's, in the 2021 NEC Championship."
Key Moment
Abladian and Goltz never let Hobart tie the game in the fourth quarter, answering every Statesmen goal with one of their own as Bryant held on for the 14-12 win.
How it Happened
O'Rourke opened the scoring on Wednesday, spinning away from his defender before tossing a changeup past the Hobart goalie.
Abladian made it 2-0 game, scoring on the goal mouth.
The Statesmen then scored twice late in the first quarter to tie the game at 2-2.
Bryant, however, won a faceoff with under a minute left to set up a late offensive possession. O'Rourke took the ball from behind the cage with 3.6 seconds remaining and was able to curl a shot inside the near post from goal line extended, beating the first-quarter horn.
O'Rourke kept it going in the second quarter, completing his hat trick with a curling snipe. He then made it 5-2 with a transition finish off a pass from Jake Fiske.
Hobart would tally a late goal to make it 5-3 game at the half.
Bryant pushed its lead to 7-3 with a pair of rockets in the third quarter. Abladian took a feed from Trevor Weingarten and buried a hard shot high for a man-up goal.
Goltz made it 7-3 with a step-down blast.
Kevin Groeninger gave the Bulldogs a five-goal lead as he collected a rebound and fired it home.
Hobart, however, scored four goals in a span of 2:12 to make it 8-7 with 1:43 left in the third quarter.
Mike Kearney was able to make it 9-7 with 15 seconds left in the quarter, firing home a bounce shot.
The fourth quarter then played out like a title fight. Five times Hobart pulled within a goal only to have the Bulldogs answer. Abladian had the first three answers, making it 12-10 with his fifth goal of the game at the 7:39 mark of the fourth.
Goltz then netted goals at 5:19 and 0:47 to finish the Bryant scoring. His goal with 47 seconds left was the nail in the coffin.
Stats
Hobart outshot Bryant, 59-36.
The Statesmen also won the faceoff battle, 16-13, and the ground ball battle, 38-28.
Abladian scored five goals on eight shots.
Goltz recorded three goals on four shots.
O'Rourke finished with four goals on eight shots and caused a huge fourth-quarter turnover.
Jacob Alexander won 13 faceoffs and had 10 ground balls.
Fiske had five ground balls and caused two turnovers.
Caracciolo finished with 17 saves.
Game Notes
Bryant is now 8-6 all-time against Hobart. The Bulldogs have won four of five meetings against Hobart in the NEC Tournament.
The Bulldogs are now 11-3 all-time in the NEC Tournament.
The Bulldogs will be playing in the NEC Championship for the sixth time. Bryant is 5-0.
O'Rourke has now scored 18 goals in his three games this season.
O'Rourke is just the fifth player in DI program history to record 150+ career points (152).
Abladian has scored a team-high 27 goals this season. He has scored five goals in each of his last two games and at least four in three-straight.
Goltz recorded his second hat trick of the year and has scored in five-straight games.
Up Next
The third-seeded Bulldogs will face top-seeded Saint Joseph's Saturday afternoon in the NEC Championship. Faceoff is set for 1:00 p.m.