Bryant Blown Out By Maine, Give Up Most Points In Bulldogs' Division I History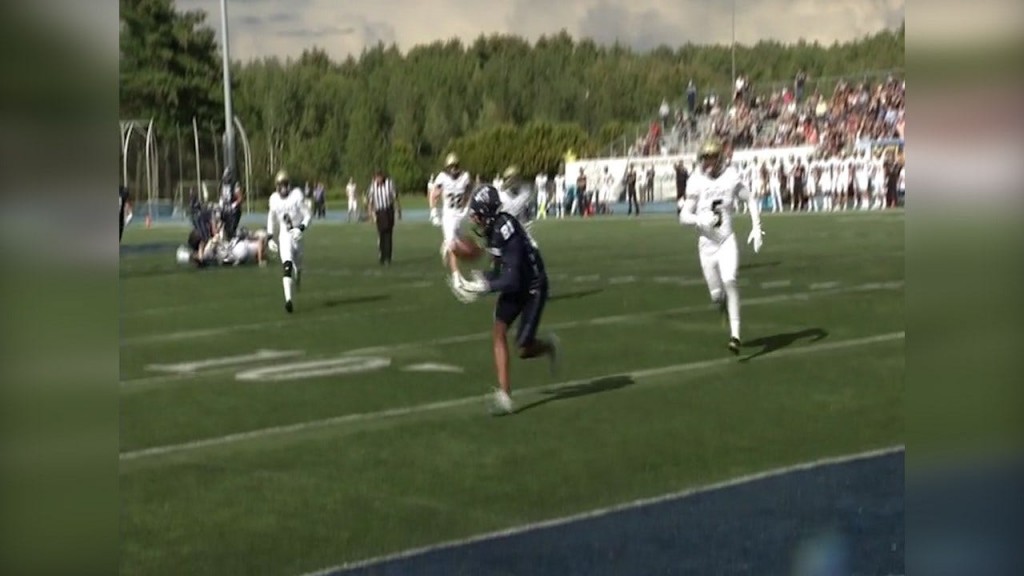 The University of Maine used a 29-point second quarter to pull away from the Bryant University football team on Saturday evening, eventually earning a 60-12 victory at Alfond Stadium.
With the loss, the Bulldogs (1-1) fall to 0-4 against the Black Bears (1-1) in Orono. The 60 points are also the most the Black and Gold have given up at the Division I level. Bryant also turned the ball over a program-record eight times.
Maine led 14-3 after the first quarter and then scored 20 points within the first two minutes of the second quarter to put the game away. The Black Bears finished with 536 yards of total offense, including 381 on the ground.
GAME INFORMATION
Maine 60, Bryant 12
Records: Bryant (1-1), Maine (1-1)
Location: Alfond Stadium | Orono, Maine
KEY MOMENT
Trailing 14-0, the Bulldogs drove into the redzone but the Black Bear defense held them to a field goal. Sophomore Hayden Panagos (Hillsborough, N.J.) made his first-career catch but stumbled short of the goal line, and Maine stopped back-to-back runs to force a Bryant field goal.
HOW IT HAPPENED
Maine needed just seven total plays to score the first 14 points of the afternoon. Earnest Edwards caught an 11-yard pass to cap the first drive and then Maine turned a Bryant turnover into seven more points on a Edwards 31-yard TD reception.
A 29-yard reception by junior Vincent Nisivoccia (Nutley, N.J.) put the Bulldogs to the Maine 10 to help setup sophomore Gavin Rowley's (Hampstead, Md.) second-career field goal, a 21-yarder.
Maine RB Josh Mack opened the big second quarter with a 66-yard TD run to make it 20-3 with 13:57 left. The ensuing PAT was blocked and senior Torrey Dixon (Dumfries, Va.) returned it 98 yards to give Bryant two points.
The Black Bears then scored the final 23 points of the quarter. Darrius Hart returned an interception 35 yards for a score, Mack scored from 13 yards out following a Bryant fumble, Kenny Doak hit a 33-yard field goal and Mack scored on a 60-yard run to cap the quarter.
Bryant scored its only touchdown of the afternoon early in the third quarter. Facing a third-and-long, junior Price Wilson (Marietta, Ga.) connected with sophomore Jean Constant (Delray Beach, Fla.) for a 59-yard touchdown. Constant made the catch and then broke two tackles for his second TD of the year.
A Drew Belcher TD reception, a Doak field goal and a pick-six from Sinmis Demuren capped the scoring for the Black Bears.
STATS
The Bulldogs finished the game with 347 yards of total offense and went 5-for-14 on third downs.
Wilson finished 17-of-38 for 261 yards but was intercepted five times.
Nisivoccia led Bryant with four catches for 79 yards. It was the first four catches of his career.
Freshman Isaac McCray (Middletown, R.I.) rushed for 54 yards on eight carries.
Sophomore Robert Brown (Palmetto Bay, Fla.) led Bryant with seven tackles.
Mack finished with 255 yards and three touchdowns on just 13 carries.
QB Chris Ferguson was 8-of-17 for 150 yards and three scores.
GAME NOTES
The 60 points are the most the Bulldogs have allowed at the DI level. It is the most Bryant has allowed since it allowed 77 against Southern Connecticut in 2007.
UP NEXT
The Bulldogs face in-state rival Brown next Saturday at Brown Stadium in Providence. Kickoff is scheduled for 3:30 p.m.